After Brekkie we wait for our 4x4 ride to arrive. It's a Toyota Hilux pick-up truck, the most indestructible vehicle in the world! We are all decked out in our military gear for the first time and feel like a crack commando squadron about to leave on a mission.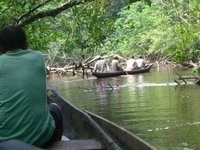 We take a dirt track to a village some 45 minutes away where we ditch our un-needed kit and pick up our bows and arrows. Graham picks one up, has a play and snaps it in two! We weren't aware they have to be moistened and tensioned up first. Ulp! It's another 30 minutes in the 4x4 to the Bura Bura river with us all bundled in the back where transfer to a couple of dug out canoes for a 2 hour paddle down stream. Along the way we encounter Howler monkeys, a Green Emerald Boa Snake and a 4 foot Fire Snake!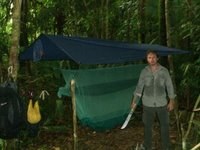 On arrival at the campsite it's cheese and crackers for lunch and straight into machete training! These things are cool! It is the only thing you need to survive in the Jungle. This thing is sharp and will cut down a tree - we know, we tried! Awesome.
Then we pick a site for our house and pitch our hammocks. This included a lot of fathing about as we learnt how to tie knots and the pick the rights trees to use. Then it was time for a dip and a wash in the river, followed by dinner and our first beer in the jungle - in the middle of absolute nowhere!
(I am writing this tucked up in my sleeping system, watching fire-flies dance around the black night.)
Posted by Steve Eynon5 comments