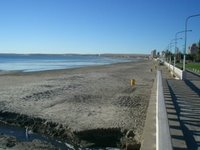 I'm up with only 10 minutes to spare before the truck leaves on a day trip to the famous wildlife-tastic Valdes Peninsula - only Nick and I have decided not to go. We're Welsh and in Patagonia and have our own pilgrimage to attend. We use the truck to get a lift into town, jump off and head to the bus station. Nick's travel book has instructions on how to get to Gaimen, a Welsh town, by bus. The rest of the truck don't fancy our chances given my previous experiments with public transport.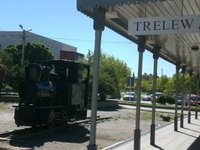 We first buy a ticket to Trelew. It was all a bit confusing because there were 2 operators with buses to Trelew (Empresa 28 de Julio and Mar y Valle) from Puerto Madryn with a shared timetable. We went to the window of Empresa 28 de Julio as directed by the Tourist Information only to be redirected to the Mar y Valle window, where we buy a ticket. I visit the bathroom to do my morning stuff and we check the bus times. We've just missed one so we grab a coffee and wait for the next. But the only bus to turn up is the one we don't have tickets for (Empresa 28 de Julio) and everyone else's ticket looks very different to ours! In fact, closer inspection of our ticket reveals that it is explicitly states it's for 09:00 and not 09:45 as what the time is now! Feeling bolshy we try to blag it anyway. No such luck, as upon boarding the driver notices our dodgy tickets (wrong operator, wrong time). But then, in an un-expected and very un-British turn of events, he dashes off the coach and into the office, comes back with new seat allocations and lets us on at no extra cost!? Result!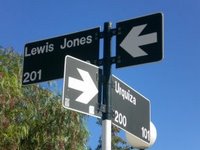 After an hour in the wilderness we hazard a guess that we're in Trelew, hop off the bus and notice we're on Lewis Jones St! How cool is that!? A Lewis Jones St in Argentina! Makes a change from the usual Av de San Martin!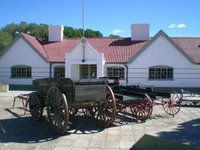 We find a museum (that used to be a train station) that charts the history of the town since it was founded by Welsh Settlers. Not exactly riveting but interesting. We note there is a real sense of a Welsh community there with Welsh chapels, Welsh community centres, Welsh lessons and the obvious historic monuments.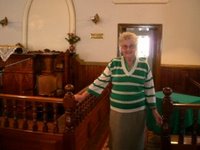 And then the bizarre happened. We blundered into a little Welsh chapel and were greeted by two little old ladies. We a gave a "Bore da" (good morning in Welsh) and got a barrage of Welsh back in a very strong Welsh accent! One of them spoke pigeon English, neither really spoke Spanish, Welsh was definitely their first language. And neither of them had even been to Wales! "But," I'm thinking, "I'm in Argentina, South America!?" We tried to chat for a bit and promised to learn more Welsh before bidding them our goodbyes (my 4 words weren't really of that much use).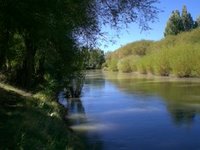 A quick pizza and a beer and we catch a bus to Gaiman without incident. It's another hours ride for another insignificant amount of money (6.50 pesos). We're here for more Welsh goodness. It is also meant to have a large Welsh community and museum (which was closed that day). We wandered around the Ghost town and up and down the picturesque river front before settling down in the one of the many Welsh Tea Houses for afternoon tea.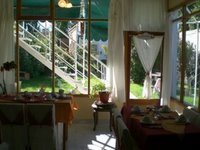 So, dinner was a pot of tea and huge plate of assorted cakes! Hmm... I thought it was a very English Afternoon Tea (with the addition of a couple of small brown Welsh cakes) but the decor was decked out with tea-towels with maps of Wales. That and the owners spoke perfect Welsh.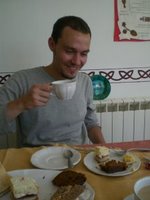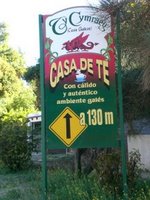 There we met Sarah and Dom (Brits living in Hong Kong, she from Camarthen) and joined forces to find a mythical "real pub" which was marked on the map (Brains, Brains, Brains... give me your Brains!). It didn't exist (Boo!) so we settled for a local bar and larger instead. We whinged because we thought the 1 litre bottles were too expensive at 8 pesos each (£1.20). The owner catches my eye as we leave. He's drinking Mate - a local brew comparable to strong tea, drunk through a metal straw to filter out (most) of the chunks of tea. He offers me a drink from his gourd, it's a sign of friendship and is considered rude to turn down. So I accept and note it's a form of appeasement for the beer prices.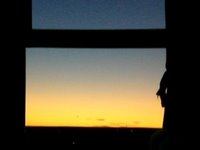 Sarah and Dom accompany Nick and I back to Peurto Madryn on the buses, observing some spectacular sunsets on the way. We part company as they head to a hostel. After a long walk and a small taxi ride (where are they when you need one?) we arrive back at camp. The others saw Killer Whales, very rare for this time of year. Bastards! Oh well.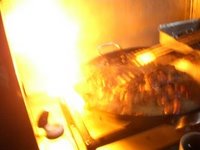 Lynn and Isi were busy cooking a flaming stir-fry and flame it did! No idea how it worked, it was alcohol free!?
Needless to say, it was another late night.
Posted by Steve Eynon0 comments