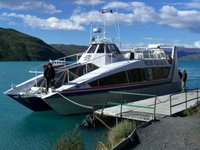 Up, packed and out by 08:30 - it's 3½ hours to the catamaran at Camping Paine Grande that I need to catch to get back to civilization (for 11,000 pesos). Only I'm not sure what time it leaves, 12:30 I think. But as there's only one a day, should I miss it I've another night in a wasted tent and I would have squandered one of my previous good walking days. So I give it pace, lots of pace. Bones and feet hurt but I need to make the boat. I keep it going and make it in 2½ hours! Ye hah! I sit by the dock and eat the rest of my food as a queue forms behind me. I was the first one there. I was very impressed with the cat when it turned up, it looked like a bullet proof military gun ship and the twin diesel engines throbbed with a bass any club would be proud of!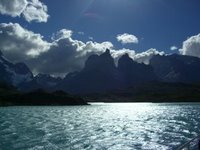 At the end of the ½ hour ride across lake Pehoe we were met by a horde of buses to take us back into town. I settled into my empty Israeli bus and solemnly gazed out of the window into the sun. On exiting the national park I stuck two fingers up at the mountains; they didn't get me.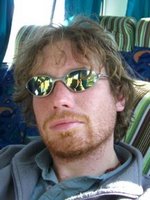 On the walk back to the Jewish commune I chat to a couple of Israelis who were on my bus. They didn't understand how / why I'm at Castle de Juan. "It's an Israeli only hostel!" they say. "It was!" I reply. "But, of course you are welcome, friend." I need to escape. I also need to get some laundry done, a massage, go out, be sociable, and get drunk. It's all been too long! But I'm informed it's Good Friday - every where's closed. Great.
I check when the Dragoman truck arrives in Santiago to see how many days I have to meet it. I have zero, it arrived today. I decided in the park that given half a chance I'd meet up with Isi and the truck. So despite feeling shattered I scour the town for Internet and make a plan. I book myself on a bus back to Punta Arenas for first thing in the morning (for 3,000 pesos - £3) whose airport has several flights a day to Santiago. I email Isi to say I'm on my way and to ask where the hell she is! Over a big meaty mixed grill I muse over the possible downfalls of my plan: No flights on Easter Saturday, not able to buy flight with my stupid Visa card and Isi may not reading her email before she flys home. It's perfect, nothing can go wrong!
I return my broken tent to Erratic Rock. Bill, the ex-army drill Sergent, wasn't happy I broke it and wanted retribution. But as it was given to them for free and they could fix it, I was let off. I go back to the commune to pack for tomorrow.
Posted by Steve Eynon