A small panic at breakfast, the crazy German woman claimed she was on the same 09:30 bus as Sean, Monika and I. But phew, she then also said she was on the another bus at 10:00 going somewhere else. She's crazy.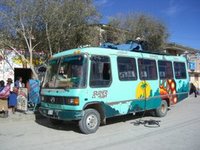 Our bus was more of a mini-bus, painted in primary school colours and Spanish for "Super Luxury" painted all over it. The signs lied, it wasn't super luxurious in the slightest, nor was the 6 hour ride. The bus quickly filled up. An old grandma with baby sat adjacent to Sean, or so we thought she was until she flopped her jugs out and started breast feeding. Other old women sat in the isles atop of huge bags of vegetables and meat. Others decided to air their large pots of llama milk. A couple of French Canadian Girls in front helped ease the pressure of overcrowding by sitting various kids on their laps. A combination of heat, bus movement and strange smells meant the babies and kids started puking and throwing up - adding to the wonderful sweaty bus fragrance. A 7 year old girl sat next to me. For lunch she bought some bread which went into a plastic bag. She ate the bread out of the plastic bag. She threw up the bread back into the plastic bag. The circle was complete. She then fell asleep on my shoulder, plastic bag of puke tightly gripped in hand. We were happy to finally roll into Potosi even though it's at an altitude of 3,800m.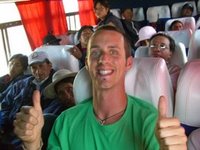 Rather than sticking to Sean's Footprint guide book we were talked into staying at Hotel San Pedro for 30 Bs pppn (£2) by a geezer at the bus stop, it seemed a pretty central place. He flagged us down a taxi and told us and the driver that the hotel was to pay the fare (free transportation) and off we went. Potosi has a lot of narrow, one-way streets, is on the side of a dock off steep hill and we were driving up to the other side of town. We were grateful for the taxi. Note that no-one drives downhill, all drivers actively switch off their engines and coast downhill instead. Even if it's only for a few seconds. Sean and I convinced ourselves that it's a useless practice for short coasts, for surly they'd use more fuel firing up the engine than what they'd save coasting?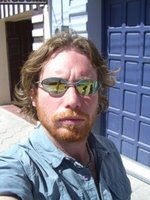 We arrive at the hotel, the receptionist doesn't want to pay for the taxi, he doesn't know what we're talking about. Luckily the taxi driver does so we let them both battle it out. The taxi driver wins. Wandering around town we book ourselves a tour of the mines for tomorrow (with the reputable Koala Tours) and eat at an Italian. They didn't have my first choice (Llama), they didn't have my 2nd choice (Cheeseburger) thankfully they had my 3rd choice (Hawaiian pizza). We find this happens a lot in South America. The pizza wasn't great, by contrast Sean & Monika's pasta was!
Returning to my tiny room I find it cold and the bathroom smells of sewage. Hmm.
Posted by Steve Eynon