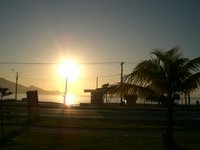 It's a long drive day so I sleep, we drive, I sleep some more, we drive some more. The wheels on the bus go round and round. I wake up, everyone else is ether sleeping or reading. I chat to Isi to prevent her from getting bored. (I swear that girl has an attention deficit disorder!)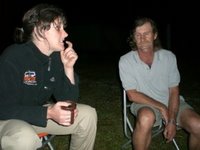 It gets dark. It gets cold. Lightning and thunder ensues and we get, um, lost! So we stop at some random house to ask for directions and if we could camp on the large front lawn for the night. We can and we do. After dinner we are joined by the owner of the house, a Ukrainian Dog Breeder. (That said, I've not seen his children!) He was drunk, as Ukrainians often are and no-one understood his Portuguese, he didn't understand my Russian either! I offered him a drink from the International Hip Flask of Peace. He was too wasted to work out where the whiskey poured out of and ended up with it dribbling down his top!
An early night as we're up again at 05:00 for more driving.
Posted by Steve Eynon