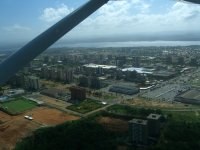 My Spanish Sucks! And nobody speaks English. Worse still, they don't understand my Spanish. That morning I was delighted to find the shower had HOT water so I try washing my hair with hand soap (my shampoo being in the lost rucksack). Messing around I find a wicked way to wear my money belt (under the trousers round the back, like a bum belt).
In the hotel reception I meet Blake and Will, 2 Americans who also flew in yesterday to start their 7 month South American trek, except they speak Spanish. They thought I was very brave doing the same, only on my own, with a stutter and with no grasp of Spanish whatsoever. I said I was stupid. (Apparently it's easy to pick up Spanish in parts of the States due to the Latin influence.)
After Breakfast with Blake, Will and a crazy old Slovakian bloke (who refused to speak Spanish, claiming they all speak English and just grabbed his balls whenever the waitress asked him what he wanted), Blake helped me phone the airport. And guess what, my bag is coming! So we all grab a ride to the airport in a HUGE black American Ford muscle car (see the end of Fast'n'Furious). I sit in the "armchair" in the front! Despite it's size it was very beat up but still looked very cool!
I've a few hours to kill until my bag turns up so I buy an evening flight to Ciudad Bolivar for 200,000 Bs (£50) and head to the bar. There I meet the crazy Slovak! Except now he's normal-ish and is intent on feeding me life advice. He's over 54, has a grey bushy beard and a corporate baseball cap. It seems he's an Electrical Engineer and is here to help install a Cement Factory. He has a penchant for girls and claims to have slept with over 250 of them. He kisses 2 random girls goodbye as they leave the bar whilst I watch. I accidental buy him a beer. My Spanish sucks. Nobody speaks English.
-
Bad News:



The 3:00pm flight from Paris with my bag on, is 3.5 hours late, meaning I miss the 7:30 flight to Ciudad Bolivar I paid for earlier.
-
Good News:



I meet a Slovakian Tour Guide (with Slovaks in tow) who speaks Spanish and who is trying to get his troupe to Canaima, the same place I wanna get to.
-
Change of Plan:



In the following mad 3 minute rush I join them and buy a ticket to Puerto Ordaz for 170,000 Bs. I don't know where Puerto Ordaz is!
I would kill for some toothpaste / toothbrush, I'm sure my breath is foul. For better or worse (as I have far too much stuff to carry) I purchase a bottle of Black Bush Irish Whiskey.
After arriving in Puerto Ordaz at 23:00, Peter (the Slovak Guide) found all the hostels were booked up. Ooer. I stuck close and handed him my phone card (he speaks Spanish, I don't). Once he used it I knew he'd have to sort me out some accommodation too! Good thing he did for the armed Police were telling us the airport was closing and we all had leave. He booked me into a triple room (well, concrete room with 3 floor mats) with him and another of his group. It only cost 33,000 Bs (£8) including taxis there and back. Cool!
It turns out that Peter often does real expeditions here - proper shit. He showed me lots of photos of him canoeing up river for 12 days before climbing a Mountain (Tapui), complete with boat, and abseiling down the other side. He gave me his card and a CD with 100's of his photos on. He's even been in a film about him (and his group) climbing Angel Falls which has been shown in 25 film festivals all over the world. If I email him, he'll send me a DVD of it!
Posted by Steve Eynon