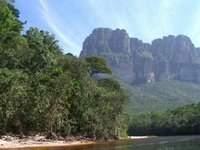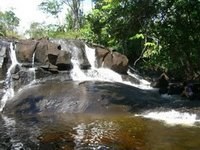 Unfortunately I'm not to travel in the same boat as Sean and Monika and Will and Adriana but with the po-faced Slovaks (laugh or smile damn it!) along with Patrice and Claude and with Peter and Martin, two Check dudes from Prague who do marketing for Intel. After starting an hour late, it's a 4 or 5 hour affair in a long wooden boat. The jungle scenery is stunning and as the day wears on, the Tepuis (flat topped mountains) loom larger. We stop by a mini waterfall and rock pool for lunch. Peter and I take a dip. Halfway through another boat stops for lunch, it's full off Latina bikini babes who instantly start splashing about and posing for cameras. This country is wicked!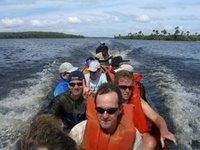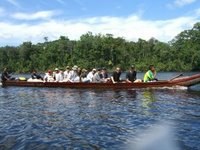 Back to the boat and we start motoring up Grade 1 rapids! Occasionally the engine stalls and we start floating backwards and picking up speed. We just sit there as the guides start to panic, try to stop us pummelling into the banks and attempt to re-start the engine! At one point we all get out and the boat makes a running start at some real shallow rapids. It's not uncommon to hear rocks scrape under the the bottom of the boat. It's dry season and the river isn't that deep anymore. And yes, we get soaked, constantly. Martin remarked that it's better than the Log Fume at Disneyland, I retort, "Nope, this is the real thing!"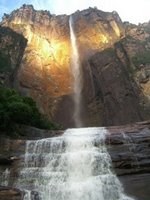 We reach camp at 16:00 and I've a real sore arse from sitting on the wooden plank seat for 4 hours. We ditch our kit and take the 1 hour trek through a jungle forest to a view point. The path is just a mass of rocks and tree roots. The we see it - Angel Falls; the crash site of Jimmy Angel. Cool! The guys from the other boat turn up. They waited an extra 1½ hours for another couple to turn up (Mark and Lisa who flew in with 20 frozen chickens and a 20" flat screen TV!). Their boat engine was under powered and due to hitting rocks in the shallow, they had to change the propeller 3 or 4 times! After soaking up the scenery Sean and Monika, Will and Adriana and I all walk back together before getting naked to bath in the river (there is no shower) with the falls in the background. Sean and Will both reckoned the river had a high shrinkage factor. Pansies!
Posted by Steve Eynon