I wake up still wheezing and snotty and my muscles feeling like I'd just attempted a Everest summit. I'm not getting any better and leave for the Machu Picchu trek tomorrow. Time for re-enforcements, time for anti-biotics! I break out the Amoxycillin kindly donated to me from Eug. Then it's to the Bolivian Saltenas place for brekkie and a x3 treat!
Back to the Top Coffee Bar for more journal writing and more top coffee! I note that the waitress brings "everything" over to your table on a tray, hoisted high. Even if it's just a single item, like a bottle of beer. At first I thought it was a little silly and over the top but then I noted that her little strut over in short skirt and high heels also looked rather sexy! Hmm... So for the benefit of the reader I decided to stay a little longer and order more stuff. As the time ran into early evening the volume rose and they projected a Robbie Williams music DVD onto the wall in front.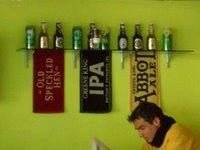 And then I saw it, hanging off the wall, beaming its tantalising ray of hope right at me... a bar mat for Old Speckled Hen! Woah! And next to it bar mats for Abbot Ale and Greene King IPA! I immediately call the waitress over. Just think, real English Ale, here in Cusco! Boy, it's been sooooo long! In my bestest Spanglish I enquire about the Old Speckled Hen. She understands nothing but brings me a beer menu instead. All 3 beers are available in bottle and cans. Stuffing the Spanglish, I just point at the bottle of Old Speckled Hen on the menu, my Spanish sucks anyway. She walks away but struts back empty handed. "No tengo Old Speckled Hen." Bollocks. My hopes dashed, my heart broken. I reason to myself that Abbot Ale is not a bad brew. She walks away again but again struts back empty handed. As saucy as she is, she's trying my patience. "Tengo solo Greene King IPA en lata." Bollocks. Greene King IPA is a sorry excuse for a beer at the best of times, but in a can, literally transported half way around the world... No Thanks. I plum for a local fresh Cusquena malt beer instead. I enjoy the beer. I reason the antibiotics are working and I'm getting better.
I eat at an overpriced Mexican tourist restaurant simply because Sean & Monika aren't around and I can! Back at the hospedaje I change rooms again. I have no idea why but it keeps Carlos the owner happy. I pack for the trek, pop more pills and have an early night.
Posted by Steve Eynon