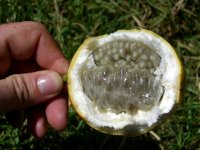 It was a bright sunny start to the day as we set off, crossing the river and along the other side of the valley. Mid morning we stop off at a little shop and wait for the slow coaches to arrive. Our guide introduces us to Monkey Brains! Also know as Passion Fruit, the way to eat them (apparently) is to crack them on your head to split them open and then slurp out the innards! Monkey brains are so plentiful from overhanging trees the little snackettes practically give them away!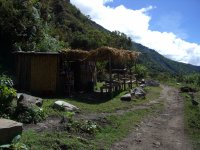 From then on it got real hot. And after leading with the super fit Americans for a while I figured I'd proved my worth and decided to hang back so I could unbutton my shirt and cool down. To my surprise I catch up with Marceo, one of the Brazilians. He was limping along on his own, having sprained his ankle somehow. It was late morning and I knew we had some distance to go so I decide to chill and walk with him, keep him company. He didn't speak English and I certainly didn't speak any Portuguese!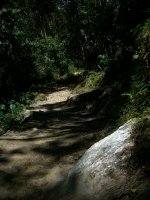 After a couple of hours we meet up with our leader, he's very concerned about making it over to Santa Teresa before dark - especially with Marceo and his sprained ankle. At the bottom of the valley the trail meets up with a rough road. Our leader spies a big truck, walks over and strikes a deal with the driver to give Marceo and I a lift to our lunch stop where all the others were waiting.
At first I was a bit put off by the idea - I felt like I'd be cheating if I didn't walk the whole Inca Trail. But then I reasoned this trek wasn't an almighty challenge (considering some of my other more recent adventures!) and it wasn't a sacred pilgrimage either, so... what the heck!!? In the back of the truck I pile!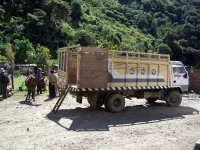 We arrive for lunch amidst a volley of cheers! People admired our transport! So much so, we arrange to have the same truck transport all of us (and the other group) to Santa Teresa. Now while this may sound like a complete cop out, hear me out!
-
We get to ride in the back of local truck
-
We get back in time to visit Santa Teresa Hot Springs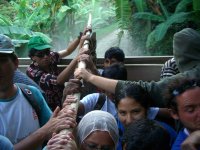 It was definitely the right choice. The truck ride was awesome, we were packed in the back with a kazillion locals, rough riding down dodgy dirt tracks, being pounded from one side of the truck to the other - great fun! In fact, the journey was so long, even in the back of the speeding truck, I don't know how we would have made it if we had walked!
After setting up our tents by a bar we all pile back into the same truck for a trip to the Santa Teresa Hot Springs. The tourist part was still being built but the Hot Springs themselves were definitely hot and ready!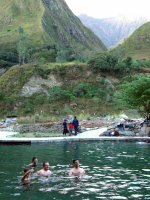 It has to be said the Americans were not only super fit, but ripped and muscle built too. They were also doctors in the making, following their parental foot steps. They obviously spent all their time reading books, guzzling steroids and pumping iron. They were your stereotypical American all-star do-gooders - but I must add they were also very stereotypically boring too. Yup, they always went to bed early and didn't drink.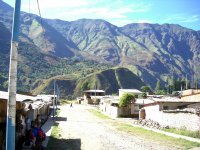 Marceo on the other hand, as it transpires, knows everyone and is quite the social and party animal. And after helping him out today, I'm his new best friend! Good job the springs also served beer!
John the Irishman felt pretty ill from all his speed walking and was happy to chill by the pools. Though I still poked much fun at him for wearing a English rugby top!
We stayed at the springs until dark where we rode the truck back to town under a blanket of dazzling stars. On return there was lots of drinking over dinner and an attempted bar crawl - attempted because we could only find two!
Posted by Steve Eynon