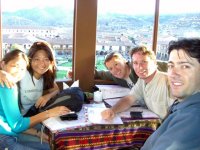 The afternoon sees me meeting up with Artur (the German) and the Brazilians. Yeah the Brazilians' English is as good as my Portuguese but Artur acts as a good translator. We go for some food and the Brazilians are nice enough to bring along Vanessa & Silvia. Most of them are leaving early in the morning so don't want another big night. The girls are staying for a few more days, but being girls, also want an easy night.
After goodbyes are said (Chow!) I decide to hunt down a quiet bar where I can catch up on my blog in my journal (before copying it to the website). I remember passing a quaint little bar down a cobbled street on my first night in Cusco. I didn't go in then because it was closing up for the night. But tonight's the night - I wonder the streets of Cusco until I find it.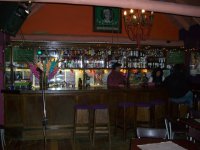 I score! Mandela's Lounge is was exactly what I was looking for. Swathed in deep red colours and dark mahogany furniture it offers the perfect serene setting for some imaginative writing. My only mistake was sitting at the bar. For no sooner than I had ordered my first Cuscena beer and put pen to paper, the Bar Manager starts chatting to me. She's quite a pretty local girl by the name of Liska. My Spanglish is crap but thankfully her English is far better!
Conversation goes well. So well in fact, that when the bar is about to close I'm invited out to join Liska and the staff at a night club they're going out to. Oh boy - another late one coming up! The club is having it's opening night party and is strictly invite only. Well, it is unless you happen to know Liska, who happens to know everybody!
Club Izakaya - for a raver like myself, who's been stuck with Andean Pipe music and American Pop Dance for the past God knows number of months, this place is fantastic! It has smoke machines! It has lasers! It has strobes! It has, like, real club dance music!
Half way through the night he club owner comes over and offers Liska a job - she casually turns it down. Speaking to the owner myself he tells me Liska is the best manager in town and everyone wants her to work for them. This girl is beginning to impress me in more ways than one!
In all I have to say it was an awesome night out!
Posted by Steve Eynon