It was early start and after a quick cup of porridge everything was stuffed back into the dry bags and we all stuffed ourselves back into wet clothes. It's good to note that even hardened surfers complain about putting on a wet wetsuit!
And today's activities? Why, more of the same of course! And something new too! For one particular deep section of rapids we were able to jump overboard and drift through them. Easier said than done for you're forever being bashed in the head by furious waves! Then they had a boogie board to try out too - again, I'm not convinced as to it's effectiveness! I think inside the raft is the sensible place to be!
We stop at another sandy beach for a very late lunch and decide to set up camp at the same spot. The first duty was to find some firewood for the evening. The others potch about looking for dry drift wood by the river. I go straight for the chase and head into the woods at the back.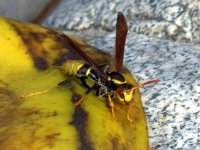 Most of the dead good stuff was still attached to rotten trees, necessitating I climb trees to break off branches. Half way up one tree I'm about to put hand on a lumpy knot when I decide to look closer. Hmm, it wasn't a lumpy knot at all, but rather a mini-wasps nest. And these were rather large angry red and evil looking wasps too! I look around the tree, above and below me, and discover all the branches are coated with these mini nests. How I didn't squash one climbing up I do not know, but it made climbing down a damned sight more difficult! So I kinda decided to leave that tree alone and find a different one!
I nipped back to camp to borrow a safety rope to help pull some branches down. On my return I discover the others had been playing silly buggers. They'd paddled across the river, mooched around and come back, leaving one of their mates stranded! In the end he had to swim back! No one had any wood though. Good thing I'd dragged back half a dead tree then!
To while away some time in the afternoon the guides had us play some games using paddles and other rafting gear. Initially everyone felt pretty exhausted from rafting but we all got into it once we started. And we all knew the guides had been playing these games for years!
One simple game (and a favourite of mine) involved taking a paddle, spinning round it a set number of times (to be counted out by someone else) before trying to run round a pole in the ground and back up the river bank. Sounds easy but more than one fellah ended up splat in the river!
Another game had one person assume a press up position while his partner leans over him and places a stick in the ground - only he's not allow to touch the ground or throw the stick. The team with the stick furthest away wins! It had a bit too much bodily contact in it for this British guy, but it would make a good party game!
More bonfires in the evening and I got to recite my reasoning for coming on the trip. Everyone sounded mightily impressed!
Posted by Steve Eynon