On the road again we leave Brazil and enter Argentina. We do supermarket shop - I'm involved as Retard (aka Mark) and I have to cook tomorrow. It's a "massive" shop and we clog up the small supermarket with trolleys filled to the brim! Back on the truck we get stopped by police hoping to make some fast money. They try to scare us by bringing a mean looking dog onto the truck. It doesn't work; we all "coo", pat the dog and take photos instead! The police leave empty handed.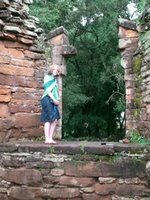 In the afternoon we reach San Ignacio, home of some modern Jesuit Ruins. We spend a good ½ hour looking around - but no-one is really impressed or has an interest, especially as the light rain makes us all damp. I annoy everyone by splashing around in puddles in my flip-flops. We try to find to cafe for a beer, fail and get coffee instead.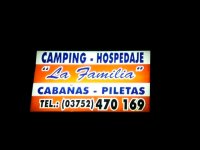 At the campsite we all pay an extra 80p to upgrade to beds in dorms for the night. The Frenchies make an interesting Lentil dinner followed by brown chocolate crepes! We all decide to head into town for beers but the numbers soon whittle down to just me and Isi when they realise town is a 15 minute walk away! Pansies.
Isi wanted to get drunk and with the following prices, we did!
1 beer + ½ pint of whiskey = 7 pesos (£1.20)
We found a slot machine arcade, made 6 pesos from 1 and chilled outside a pool bar, people watching and observing the locals joy ride in stolen cars! We even saw police turn up, quickly and quietly cuff a guy in the bar, throw him in the back of police pick up truck, give him a swift shoeing and drive off with someone standing on his head! It was interesting to note that the perpetrator didn't put up any struggle at any point, he just accepted his fate. Maybe he knew it'd be worse if he did!?
It was a fun night out which saw us home for 04:30.
Posted by Steve Eynon