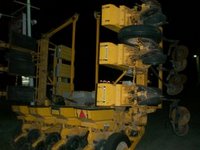 We're up and off whilst it's still dark again. It's another long drive day. We cross into the quarantine zone and the truck gets searched by Police sporting baseball caps and orange sashes. They're searching for highly toxic & venomous substances. They search our fridge and our lockers and are shocked at what we're trying to smuggle in: apples, oranges, red peppers & salami (but our ham is okay, obviously!?). Rather than have them confiscated we decide to eat them all ourselves, there and then! Happy that we're not going to contaminate the area (well, until we use the toilet!) the Police let us continue.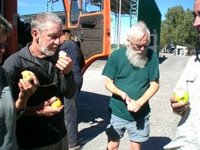 We have a quick supermarket stop and Isi and I buy a 1 litre bottle of local vodka for 8 pesos (~£1.20) and some Tropicana orange juice for 3 pesos (~£0.50). Life on a full truck is stressful!
We enter Patagonia} and pull into the campsite in Puerto Madryn - the landing site of the early Welsh settlers. It has hot showers! Which is great because this far South it's beginning to get really cold!
Isi is grateful for her own tent as Michelle is ill. After we drink the voddy, it's bed for 03:30.
Posted by Steve Eynon