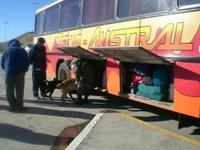 Up before 05:00 to walk with the Israelis to the bus stop (a random street corner). The driver doesn't care that I don't have a ticket and tells me to get on the bus anyway - I happily oblige! I'm leaving, I'm leaving!!! We change buses at Rio Grande at 08:30 where I'm told to walk into the ticket office to buy a ticket. I decide to follow the Israelis to Punta Arenas for 105 pesos, there are penguins there! The Chilean border police have cool playful dogs and they search the cargo hold looking for a bit of smelly old rope they hid there earlier!? Then they get us to drag out our bags from the hold for an individual search - they find nothing.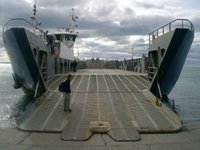 We take the ferry across the Strait of Magellan into Chile, but this time no dolphins. We get ousted at Punta Arenas in the late afternoon and there's a mini-bus from a hostel waiting for it - credit to them and their initiative. For 3,000 Chilean pesos (£3) a night, we take it! It's called the Blue Hostel and seems to operate in a weird way. i.e. their flyer advertises a Fire Alarm - like, Wow! No locks, just padlocks everywhere. Basic bathrooms and us 4 in the 1 room. We head out for cash (I go through my usual hassle of phoning Visa first, need to pay for the phone call in US dollars because I haven't got any Chilean cash yet!)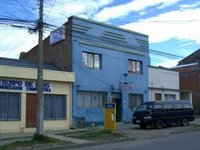 Later we head to a duty free shopping zone so the Israelis can buy some camping stuff (coats, gloves, pots and pans) for Torres del Paine. I just buy a combination lock for my main pack. Figured it's about time I had one! I set the combo to 666 - it should keep my stuff safe from all those thieving Jews! They cook us all some chicken - only it turns out to be a prehistoric turkey instead - mega tough! Bed for 01:00.
Posted by Steve Eynon