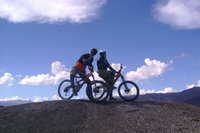 Up early at 07:00 to ready myself, today Sean and I are to do some hardcore Single Track Downhill Mountain Biking as seen on the New World Order Volume 6 DVD! Sean is dismayed with my "quick drink" last night. Oh well. We're out with B-Side again and have the same crew, Stephan the driver, Ariel the professional competition rider and Paul, the token British hippie. The tracks are for intermediate / advanced downhill riders (like Sean) - I don't think the crew are too impressed then I tell them I lied on my application form. I'm a complete beginner and never done anything like it before! I mean, how hard can it be?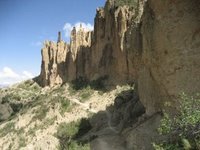 It's a long windy drive to an altitude of 4,600m where our decent begins - speeding down a dirt track, then off road, over bumps catching air, round a downhill slippery corner where I jam on the front disk brake and find myself leaping head over heels over the handlebars. The extent of the sympathy given is Paul shouting out to the others, "Steve's just done a classic!" I need to move my weight further back behind the seat.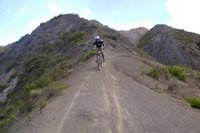 I'm wearing full body armour. I get a feeling I'm going to use it. A bit further on the single track starts - very steep, narrow paths down and along cliff faces, over rocks, boulders, dips and holes. I find picking your line difficult to judge because it all depends on your speed. Too slow when traversing along a slope and your front wheel looses grip, skids and slides down it into the ditch, throwing you off. Too slow into a boulder and the front suspension absorbs all the bikes speed, throwing you over the top. Too fast and everything slides, you miss the turn which usually means pain.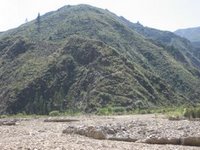 Foolishly I forget to bring water and towards the end of the morning I overheat in the blazing sun and body armour. I exhaust myself at altitude, dehydrate and loose energy. Coming down an amazingly steep zig-zag path with acute corners I loose it, can't find the ground and twist my right ankle. Bollocks. Still I make it back to the van for lunch of fried chicken fast food and pain killers.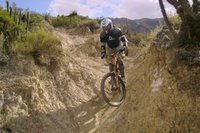 We drive to the top of another mountain for the afternoon run. This one is harder, much harder. Same as earlier but with added sheer death drops down the side of 1 foot ridge paths, littered with gaping holes and canyons. These paths are so nasty you would think twice before even walking down them! I can honestly say I was very concerned for my safety (read afraid!) for the first time in a very long time (a decade maybe?). Especially after I came off and mushed up the 3rd finger on my right hand. It swelled up, is bent at a funny angle and looks broken.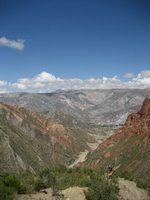 Paul says he's genuinely impressed with my riding given it's my first time and says he wouldn't have chosen this as his first track! I'm also pleased that everyone else fell off at some point too (but to a lesser extent). I make it down the mountain, skimmed over a rickety wooden bridge and was greeted with a cold beer. A fantastic day out!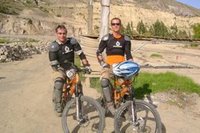 Dinner at Sol y Lunar and Ana &I go for a night cap at Oliver's Travels. I'm sorry to say that due to the heat, altitude, fear, hard work and attentiveness of the day I was exhausted and had to keep it to just the one. I'm up early again tomorrow...
Posted by Steve Eynon