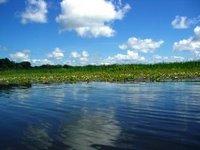 After brekkie at 09:00 it's a jungle trek to Lago Gringo. Today I came prepared with mosi spray but didn't need it. I think they only come out before breakfast. We jump in a canoe and try our hand at Piranha fishing using prime beef as bait! No-one catches anything, except our guide who picks up a couple of fresh water fish.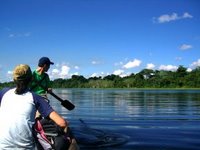 We wander into a large hut on stilts where someone from the lodge must have pegged it over with lunch , because it's still very hot. Vegetable soup, chicken pasta and salad with jelly dessert. The floorboards look like tree bark and feels as flimsy too! Everyone is careful where they step as there are large holes in it!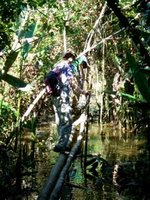 Next we're off to Lago Negro for more Piranha fishing via a little trek. The trail gets muddy and 2 logs appear on it acting as a bridge. There's another 2 logs after the first 2. The guide asks us if we need / want a walking stick to help steady ourselves. Monika takes 2 (1 for each hand) whilst Sean and I refuse. It doesn't look difficult and it isn't. But then at the end of the these stick bridges we discover more, only these sticks are raised and the mud gets deeper. Then more still and the mud turns to water and more still where the logs are not secured properly causing them to roll as you walk over them. Then the 2 logs turn into 1! Eargh! Monika squeals a lot but slowly makes her way over, walking stick in each hand. Sean looses it half way along and gets a wet leg. I have a rocky moment but keep dry!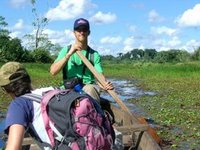 In the canoe on the other side we paddle through the reeds on Lago Negro until we reach clear water. Here we try for Piranha again, all except me because I left my line at the lunch lodge. Our guide catches a large one quickly followed by Sean, then Monika. The Piranhas make a wheezing noise in the boat as they gasp for air (water?). This disturbs Monika who decides she doesn't want to catch Piranha any more but wants normal fish instead! But fishing is all about luck and tough titty for her as she reels another one in. Not to be out done the guide baits one more before we paddle back.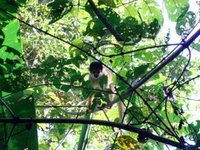 Back to the log bridges, only this time knowing what's coming and fearing wet feet I take a walking stick - easy peasy! Sean stops. He hears something. Movement in the foliage. "Small Cappuccino Monkeys," our guide smiles. We all stop and wait in silence, the crashing in the undergrowth getting louder and louder. It sounds like a marauding Rhinoceros rampaging towards us and we're just standing there like lemmings! But no, tiny Cappuccino monkeys it is, just lots and lots of them and we were standing right in their path. They appeared in the palm tops, stared at us, squeaked and jumped over our heads before disappearing into the jungle beyond. Smiles all round!
A half hour walk back to the main lodge for a cold shower and dinner. I hang around after, waiting for everyone to leave. I wish to be last back for tonight I go on my creepy crawly walk. Armed with new batteries in my head torch I use high beam sweeps around the jungle path looking for sparkling eyes reflecting back at me. And boy do I find them! Hundreds and hundreds of spiders, everywhere! Blue and green eyes staring right at me. Moths tended to have red eyes. I spot a bright slimy thing too!?
Posted by Steve Eynon