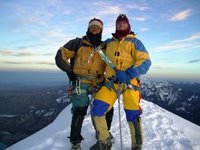 Up at 12:30am. I didn't sleep as well as I had hoped, I was too hot! Ended up using my down sleeping bag as a blanket. I pile on clothes and gear and double check the contents of my day pack, it includes a 1st aid kit and map! Brekkie, Coca tea and we all set off into the dark for 01:30.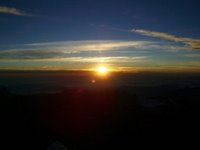 We trapse awkwardly down to the snow line in our unforgiving 4 season boots where we don our crampons. Eliseo seemed to have trouble fitting his and we set off last, very last. In fact, the others are no-where to be seen. We walk single file, my guide in front, I'm roped to him following behind. Initially I find walking very awkward and extremely tiring but then I find rhythm and settle into a pace. We continue, walking in torch light, for hours. I keep the rhythm but vary the pace (according the to gradient), just like great sex!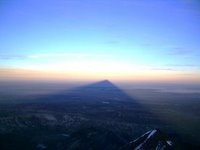 We pass the girls, encounter our first wall and have to start climbing. It is exhausting and I gasp for air and oxygen. My guide doesn't let up, "Summit by torch light!" he screams, "Vamos!" I scramble higher, filling my lungs best I can, racking my brains for Spanish for "Stop!" I see Eliseo rise over the lip at the top but he doesn't stop there. He scrambles and runs further on shouting, "Vamos, vamos!" Roped to him I have no choice but to follow, lungs bursting. He stops and sits down in the snow. I collapse down next to him and rip open the zips on my coat and fleece, relieving pressure on my chest in a vein attempt to fill my lungs with more oxygen. The climb was 30 meters, he tells me, the next one is 200 meters! "Despacio!" (slowly) I gasp. He grins and tells me we're making good time.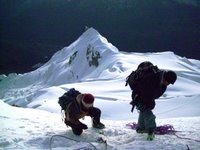 I look around and take in my surroundings. I can make nothing out beyond the 8m of torch light. I have no incling of where we are going or what we're walking in between. It's just head down and follow the path. I can see the mass of street lights of La Paz below. It is an amazingly clear night and the electric stars above put La Paz to shame, the milky way clearly visible. The night is calm and still. I check the temperature, -10°C. That would explain my frozen Camelbak tube (despite blowing air back in it after each sip). Luckily I also packed my Sigg and Thermos as well! I discover frozen chocolate is difficult to eat.
We plod on, up steep bits, along shallow bits. I keep checking my altimeter. "A new personal best!" I yell reading 5,900 meters. "I'm higher than Kilimanjaro!" Eliseo looks up, unimpressed, "Good, now we climb." I look up also, this is it, the last 200 meter ice climb to the summit. I take a deep breath and sigh, "Despacio." Eliseo grunts and powers on.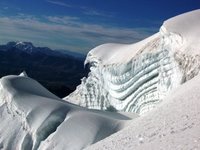 It's a different rhythm now. I climb for 5 / 10 steps, shout "Pare!", stop, get some breath back, shout "Vamos!" and climb higher. During one rest I look around and notice that I'm surrounded by the other climbers. I've caught them up. It's the first sparkle of daylight and as I survey my surroundings I'm aware I'm perched on a wall of snow &ice, some 150 meters up, dangling off a rope from my guide a few meters above my head. With only an ice-axe and crampons sticking me to the side of the mountain I feel vulnerable and a slight sense of vertigo. The others are all wheezing hard and lack elegance in their climbing. "Vamos!" yells Eliseo and climbs higher, dragging me with him. I get a feeling it's a race to the top and that he's made bets with the other guides as to who gets there first. I know I'm making it to the summit but I can't breathe and have no driving desire to be first.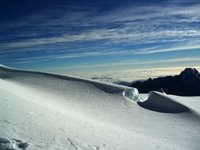 Feeling like Spidermen we all crawl up to a small ledge, the summit of Huayna Potosí, 6,088 meters above sea level. I'm the 2nd to summit, missing 1st place by a matter of seconds. Still, I'm happy. I gained some ½ hour on these super fit lads! It pleases me for I never think of myself as particularly fit or athletic. Breathing heavily I grab my hip flask (Bacardi Black Rum) and pass it to Eliseo. He immediately pours it on the ground. I step in to lamp him one but refrain when I remember it's an offering to Pacha Mamma, Mother Earth. Besides, there is still plenty left to offer around. As the sun peaks over the horizon, Huayna Potosí casts a huge funky pyramid shadow over the land and clouds opposite. Huayna Potosí, summit by torch light. Job done.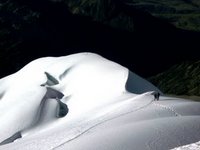 Eliseo hammers an ice anchor into the ground, I lean back and rappel down the wall. Weeeeee! It takes 3 hours to walk back to high camp. The sun's out, it's hot and it's hard. Trudge, trudge, trudge. The untouched snowy landscapes laid out before me looks fantastic. On my way up I was completely unaware any of it existed.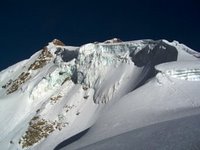 At high camp it's no sleep and no rest for we need to descend to Base Camp for transportation back to La Paz. I shun all my climbing gear and stuff it back into my main pack. One by one, everyone else returns. Only Katrina didn't summit, she turned around at the bottom of the final 200 meter ice wall. The steep climb down to Base Camp on the loose rocks with a heavy, awkward back pack was very difficult. Being exhausted, progress was slow as I sure footed every step. I didn't want to twist / break anything at this late stage.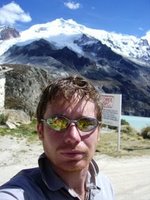 Base Camp was full of wide awake, happy, bouncy, Huayna Potosí hopefuls. "How was it?" they enquire. I collapse by the wall opposite looking like a bedraggled picture. I take a swig of water and reply, "Hard. Very hard. Only 2 out of 8 made it yesterday." "Oh." They look shocked, I just burst their bubble. I close my eyes in the midday sun and wait for my taxi.
Back in La Paz I tip Eliseo $20 US, book myself back into the El Solario Hostel and take a well needed shower. The day isn't over yet for I book myself a bus out of La Paz for the morning. It's time I left Bolivia, especially as my 30 day Visa is about to run out. I then taxi it over to my tailors. I dread picking up my Clown suit! But no fear, it's ready and the material looks a million times better than I imagined it to be! (Dark green with lighter woven stripes and a slight blue pin stripe.) Better than that it fits me beautifully! Even the trousers, which I usually have a hard time finding for my short stocky legs! I thank Mendoza for a job well done and head back to the hostel for sleep. It's been a long day.
Posted by Steve Eynon