Up at 4:00am to meet the superfit Americans. They wanted to make an early start to ensure they were at Machu Picchu for sunrise. It was an hour's trek back along the train track to reach the bottom of the National Park and then an arduous steep climb to the top of the mountain.
All the guides told us the uphill climb would take 1½ hours, I'm happy to report we did it in 45 minutes! Not bad for short fat Welshman! The superfit Americans didn't have any trouble and were eager to race up as quickly as possible. I was huffin' an' a puffin' behind them but still kept pace!
At the top you have to queue at a security gate to enter the premises. Although not yet open, we were almost the first in line. Only one coach load of American tourists got out of bed early enough to beat us!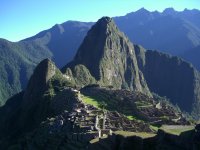 Even after we were allowed through the Machu Picchu gates, even though it was light, we still had to wait a good 2 or 3 hours before dawn and the sun itself rose up over the mountain peaks. But that was it, the event everyone had been waiting for. The anticipation of sunrise over Machu Picchu was so great, the tension so immense, I was expecting a magical, no, mythical rebirth! As if a great dragon was meant to burst free from the sun's rays, swoop down through great bursts of fire breath and grab talons of virgins! But no, when the sun appeared over the top of the distant mountains, it just got a bit lighter! Oh well...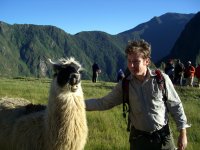 Still, the time waiting gave me chance to find the rest of my group (once they arrived on the bus!), chat and chill for a bit. I spent a lot time mooching around with Patricia, who was very pleased to have made it all the way. It was going great and we were getting along famously (yes!), but then I got distracted by Marceo feeding grass to the local Llamas and I just had to join in! Patricia walked away.
After the sun rise non-event and some group photos, the Machu Picchu tours commenced. Every guide on the ground suddenly became an expert and started taking their groups on a tour. It was all good stuff, seeing how they had rock compasses, stone hinges, earthquake proof buildings and sun dials that doubled up as calendars. That and the usual precision interlocked giant boulders the Inca's are famed for. Then rumour got out that the day's tourist quota for climbing Waynapicchu (aka Huayna Picchu) was almost up and I had to leave. The ascent of the lesser climbed Waynapicchu was most definitely on my list of things to achieve.
Only 400 people are allowed to climb Waynapicchu per day. Waynapicchu is the tall hill you see behind all the classic Machu Picchu postcard shots. Machu Picchu itself just being the city of ruins. After bimbleling around some ancillary temples I go for the Waynapicchu ascent itself. But I had been troubled by a decision I'd yet to make. Waynapicchu was just an hour to the top, but a detour around the back of the mountain to the lesser known Temple of the Moon and the Great Cave took 2½ hours. Did I really want to take the path less travelled? Once I arrived at the fork in the trail, clearly marked by a little signpost, the decision was obvious. Leading up the main path was a huge single file queue of panting and wheezing tourists, meandering up one step at a time. To the left, towards the Temple of the Moon, was not a single soul!
I happily bounded down the steps towards the Temple of the Moon. Skip, down, skippedy down. After 45 minutes of bouncing down, and still not seeing anyone, it suddenly hit me; I'm going to have to climb back up all that down and still climb Waynapicchu afterwards! D'Oh! It took about an hour to the great cave and a further 20 minutes to the Temple of the Moon. They're little houses carved into the rock face (but very cool!) and not very clearly marked. Probably because no-one ventures down there. Only on my way back up did I see any signs of life; 3 small groups in total. Although one was a German family whose daughter clung to the top of a particularly dodgy wooden ladder, frozen stiff with fear, crying and definitely not going any further!
I pushed myself to the top Waynapicchu and was happy to reach it in good time. It beheld awesome sights! Not just of the hundreds of mountain peaks in the surround, but of aerial views Machu Picchu itself. I was happy to sit on top for a while, cool down and take it all in.
Back at Machu Picchu I nonchalantly followed a late tour group or two and realised I'd missed out on a lot. There were still many cool aspects to the city I had not yet seen or knew existed. I would have loved to have stayed the whole day or longer but for some crappy reason we had to catch a train at 14:00pm! I stayed as late as I could and hopped on a tourist bus to take me back down to Aguas Calientes. If I'm ever in the area again I vowed I would spend at least one whole day in just Machu Picchu itself, to pick up on what I had missed.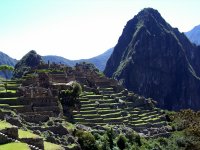 The train must have been operated by a British Rail subsidiary for it was some half an hour late. Still, it gave me time to chat to Patricia who, as it turns out, is not only American but half Peruvian and staying with a friend of the family in Cusco. She gave me the house phone number and mentions we should go out for a drink. I rule! I rule! I suggest we head out tonight and join my new found Brazilian mates for they're all keen on a party night. But alas Patricia was adamant that after today's long day she'll be doing nothing more than an early night. (A bloody cheek I thought as I was the one who was up at 4:00am, hiked up the mountain and then climbed Waynapicchu. She had just taken the bus up and meandered around some ruins! But anyway... Girls, wotever.)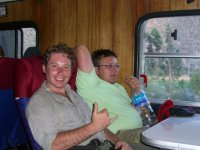 It was a jubilant train journey with the Brazilians cheering and drinking all the way back to... nowhere! We had to exit at some random local train station (with street vendors selling meat on a stick - yummy!) and pile into the back of several taxis for the concluding ride back to Cusco.
No rest for the wicked for as soon as I had cleaned up and handed in my disgusting hiking clothes to be incinerated, err, I mean washed, I had to join the Brazilians for celebratory drinks back out at club Mamma Africas. They had picked up a couple of Asian Brazilian chicks at Machu Picchu who were keen to drink also!
Later on in the evening I was very excited to catch sight of Patricia who had obviously changed her mind about staying in. Hooray! But then I noticed she was dancing with, well, err, grinding extremely closely with, a fellow American bloke from her tour group. I decided not to interrupt the pair just to announce my presence but rather, exhale a long sigh, toss her number in the bin and order another beer.
Posted by Steve Eynon0 comments