Note: This is not the "Classic Inca Trail" everyone knows and loves but rather an alternative called the "Salkantay Inca Trail". It still takes you to Machu Picchu but is said to be longer, harder and more spectacular than the "Classic" trek. Let it be known I never take the easy option!
Up at 04:00 to finish packing my bags. Carlos blunders in to make sure I'm up for my early appointment and kindly waits with me outside. He's impressed with my system of water bottles, water purification tablets and CamelBak. He thinks I'm a trekking expert. I let it be known it's not my first.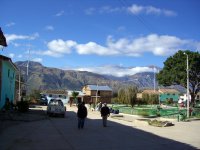 Despite giving X-Treme detailed directions and a hand drawn map to my hostel, a confused woman comes blundering down the stairs looking for me at 04:50, very pleased to have finally found me! I have to follow her all the way up the stairs with all my gear to the waiting minibus. It seems my trek starts here and now! The mini bus drops us off at a waiting local coach where we all pile on with guides and gear. For the next 2 hours I sleep.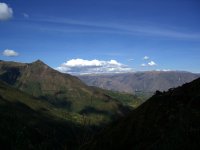 Us punters go for brekkie (Coca tea, white bread and jam) at a local cafe whilst the guides sort themselves out. I've been lumbered with a group of 11; 2 Americans, 2 Canadians, 3 Brazilians, 1 German and 2 Irish. The trek is run by Quechua Expeditions, it turns out X-Treme was just the middle man. We start at Mollepata and the morning is largely a steep uphill climb. It sorts the men out from the, um, less experienced! Lunch is then a 4 course meal affair with starters, soup, main and tea / coffee. There's a stall across the way where I try my first Cusquena Negra Malt Beer. No one else was interested.
Expecting to eased into the trek I was surprised that the first day was such a long one, some 24 km. Although the 2nd half was quite flat and rather easy.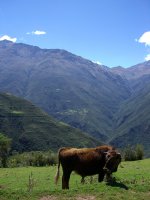 Trundling along I came across a small and rather attractive American girl struggling along the path with a large Gucci Northface rucksack. The rucksack was about the same size as her! She was with the "other group" who were doing exactly the same trek as us. They had all left her, speed walking ahead. Knowing what it can be like struggling in last position I slowed and walked with said Patricia, encouraging her to drink more water to get over her heat exhaustion and altitude sickness. She looked so bad I even donated a carabineer clip so she could have her water close at hand, rather than buried deep within her pack. We parted company when she stopped for a wee stop and I raced ahead. Not only did I catch my group up but I lead them too! Along a dirt track with Irish John, who walked at quite a fast pace. He claimed he wasn't fit but just didn't like walking slowly! In fact, we arrived at Sobaypumpa at 16:30, long before the pack horses and had to wait for them (and our tents) to arrive. Being the odd one out (quiet!) I get a little 2 man tent to myself.
By the time dinner came around the temperature had dropped significantly. It was quite literally freezing by bed time. Reports came in the next day that it dropped to -8°C overnight which would explain why in my 0°C rated sleeping bag I wore ALL the clothes I brought. That's 5 layers including my coat (wind / water proof shell), hat, gloves and 3 pairs of socks. Only then was I just warm enough to mentally block out the remaining cold and get some sleep! Brrr...
Posted by Steve Eynon0 comments