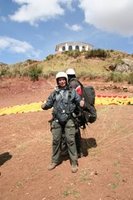 Up and at the plaza for 09:15. We're being picked up at 09:30 but Sean wanted time to come and wake me if I wasn't there. My non-appearance at White Water Rafting still fresh in his head. Our main man, Richard, is a bit of a beardy hippie but knows his stuff. He seems to be the most experienced and the all knowing sage when it comes to Paragliding in Cusco. He's the one top super models fly with and the Army gets to do show piece fly-ins. One story he tells is when he lands in Plaza de Armas, as personally asked for by the Commander in Chief of the Peruvian Army, to take part in a grand military parade. He then gets arrested by the Police, whilst in the parade, for not having the correct paperwork for landing there! Like it's a common form you pick up at the post office! Luckily the Army bailed him out after just the one night in jail!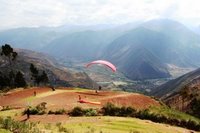 In the truck with Sean and I were 2 guys with their own gear. One was Swiss and the other, a bald headed egotist with a nondescript gringo accent called Matt. At the launch site, a short run up to a cliff, other paragliders and customers were all lining up. We watched as one launch went horribly wrong and the instructor and client almost got dragged haphazardly over the cliff. Richard shook his head asserting his authority on the field, "Well, that's what you get for paying 10 bucks less."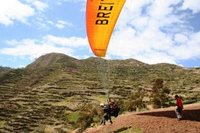 Richard and his helper laid out our canopy on the ground, "Right, the lightest and most hungover goes first." I raise my hand, still feeling worse for wear, "I guess that's me then!" "Relax, chill for a bit. We're not going yet." So we do and watch several Israeli girlies take off. Then after a seemingly indiscriminate amount of time, "Suit up, we're going!" Why now? I had no idea. Maybe the land warmed up a bit, or some clouds disappeared or the wind changed direction. What ever it was it seemed to work. The chute went straight up and so did we. A few minutes of circulating later and we were higher than the mountain we started half way up from!
Richard looks down, notes the other paragliders way below and remarks, "We sure smoked those other guys, eh!" There is no denying that we did. The ride was a smooth flight into the skies. With the whole of the Sacred Valley laid out before you, taking photographs was difficult for there was no focal point for the pictures. Just vast landscapes. But take many I did regardless.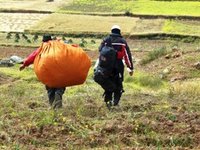 We caught thermals and rose so high we had to spiral down to Earth to land. So much so we inverted the canopy! We landed with a bit of a thump but the helper was nearby to drive us back to the launch site where it was Sean's turn. He too went straight up but claimed to have more of a bumpy ride. He felt nauseous. Richard told him to say when he was going to throw up, for there's a special position he puts him in so he misses all the equipment! Paragliding, $80 for ½ hour. It's no adrenaline rush but it's good fun and the views are simply spectacular.
When we get back to town I'm still wasted so I head back to bed for a few hours. For some reason I had to change rooms first (if only I spoke Spanish!). Later I follow a treasure trail of notes (because I turn up late) to find Sean & Monika at a Japanese restaurant, Kintaro. The Triyaki chicken was fantastic! Back to bed for 23:00.
Posted by Steve Eynon0 comments