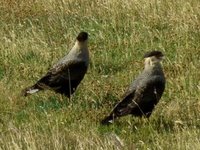 Morning routine :: Change back into daytime smelly clothes, mend feet, pick nose, make porridge, pack tent, make coffee for Thermos, pack pack. It all takes 2 hours. I leave at 10:00 before the Poles. I expect them to overtake me before long - they have trekking poles and look the business.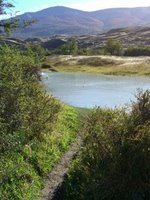 The sheep trail path takes me around and through the lakes! It's bonkers. I really didn't want to start wading through freezing mountain rivers!
I climb a hill, turn a corner and woah! I get blasted with 65 mph winds (as measured on my Windmaster watch)! It's so strong I can't walk along the path. Instead I have to lean forward down the hill at an obscene angle as if I was abseiling and side step along the path like a crab! It's brilliant! My eyes were constantly streaming water as the wind perforated my eye sockets. I've not experienced much like it before. I try shouting. My voice carried about a foot and half away, if that!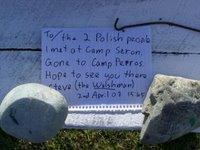 After walking the wind tunnel I powered on around the fantastic lake scenery on the lovely clear day. I reached the Dickson Refugio in good time (5 ¼ hours). It's dead. Very pretty but very closed and very dead. No sign of the Poles - I've seen no-one all day. I have lunch until 16:00 and decide to carry on for another 4 hours to the next camp site. It's good weather, clear skies and dry. If I'm going to push the boat out on any day and compress another 2 days walking into 1, today's the day. For the next few legs get substantially harder. As it'll be dark by the time I finish tonight and no-one knows I'm here, I leave a note for the Poles as an insurance policy. I feel a need to increase my insurance premium!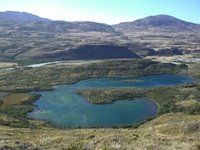 The next 3 hours is a fantastic woodland trek through thick forest. The ground is a mass of dead wood and logs, as is the canopy. Dead trees lie twisted and contorted from the wind, holding each other up in precarious canter lever positions. As cool and creepy as it is - it all looks the same and after a couple of hours there is no measure of progress. All you can see is dense woodland. It's not quite Blair Witch ("I've seen that tree before!") but it's not far off! All this time I'm speedily powering along like a stream train, trying to make the most of the fading daylight. I keep myself occupied by thinking about what little boys think about the most! (Nope, not Monster Trucks this time!)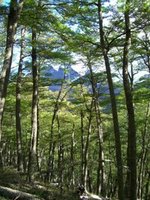 Dark comes, the head torch comes out and now, where'd that path go? Is that a foot print in the mud? Have people been here before? Does that patch of gravel look more worn down than that other patch? Is that a red marker dot or just an orange stone? All these details are really hard to make out by torch light - it gives no definition. I had to back track a couple of times to get back on the right trail.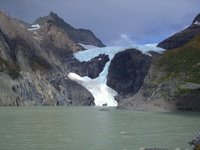 Working my way round a glacier lake (Glacier Los Perros) I begin to wonder if I had overshot the campsite - because if it wasn't obvious, I wasn't going to see it! Then a torch light in the distance gave me a destination to head for. Success, 2 German girls and an American in the closed (again!) campsite. They were as surprised to see me as I was them! This last leg look them over 6 hours in daylight - I did it in under 4! I rock, I rule! The girls weren't impressed. Regardless, I had Irish Coffee to celebrate.
Posted by Steve Eynon