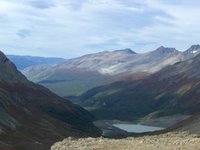 Up at 09:00 and as well as my usual morning routine I also wash feet and socks in the freezing mountain river. I then walk back to Glacier Los Perros to take some pics as it was too dark for photos last night. I finally leave the campsite at 12:00. Man, my feet hurt. I can do nothing but hobble, nay, limp along. Yesterday I gave it my all - practically jogging along for hours on end. Today I'm drained and exhausted - I have no energy. Every step, uphill, downhill or on a flat takes a huge amount of effort. I am slow, real slow. And today is one of the hardest days on the circuit, up and over the mountain. Still, I take baby steps - lots of them. I figure if I do that, I have to make it eventually! And I'm right, visible progress is slowly made.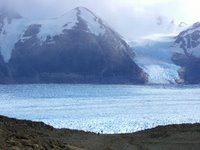 I drag myself up and over the John Gardner pass and Wow, Wow, Wow! Look at that! Wow! On the sunny horizon looms snow capped mountains, looking like an idealistic ski-resort. A few steps forward and I see a glacier winding it's way down between them. The next few steps reveal the giant Grey Glacier river flowing along at the foot of the mountains below me. I'm compelled to sit and stare at it right there on the spot. The landscape is stunning. I've never seen anything like it before. As I try to take it all in I realise I'll probably never see anything like ever again either, for I'm viewing the vast glacier from above. Whereas the norm is to view it from below - or even on it. I stagger forward out of the wind and take a lunch break.
Even after lunch I have to stop and stare every few minutes. As the sun sinks it highlights ripples of crevasses set deep in the ice. I'm watching a river literally frozen in time. It's spellbinding. I hit trees again, they obscure the glacier view. Now it's down, down, down. A serious amount of straight down. (Jez, I think your knees would have suffered! Mine did!) The glacier popping out into view every now and again during breaks in the tree line. I stagger into camp for 18:00. The trails for the past few days have been great! Proper wilderness tracks with no people. Not like the front W trail which was a well groomed gravel tracks harbouring a large population.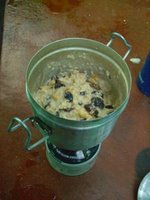 Today marks my 3 month travelling anniversary. It's a milestone because I always estimated I'd be away for 3 - 6 months. It means I can go back to the UK at anytime and not be seen to be wimping out! More Irish Coffee (+ some neat whiskey) to celebrate.
Hey, not only do I look like a homeless person but I smell like one too! The American and 2 German girls made it here too. One of the German girls spends the night with a Park Ranger in his little lodge on the campsite. When you're camping, there are no secrets! I fall asleep wondering what qualifications I'd need to become a Park Ranger.
Posted by Steve Eynon