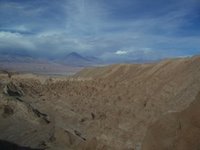 In the morning we all booked a 3 day tour to take us out of Chile and into Bolivia and I farted about on the Internet until 15:00 when we got picked up for the Moon Valley Sunset Tour. We have the same van and the same goofy driver again. But first we visit Valle de la Muerte (Death Valley). Cool! The driver drops us off and we walk down from the view point to the bottom. Only we had to wait for a bus load of geriatrics to clear off before we could take some un-spoilt photos. Most of the path was soft sand, necessitating bare foot walking - nice!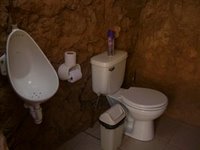 After being picked up at the bottom we get driven into the Valle de al Luna National Park (another 2,000 pesos entrance fee). They have this fantastic luxury looking toilet with a clean tiled floor and the urinal and the toilet bolted onto the wall of the mud hut. It looks so posh, clean and sanitary but yet so rustic at the same time!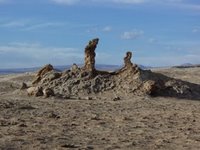 We stop off to view The Three Maries, an un-interesting rock formation from a million years ago.
At the Valle de la Luna itself we're told that the best sunset views are from the top of a cliff, necessitating a ridge walk along this mighty sand dune. Sean sprints off in an effort not to miss sundown leaving Monika and I walking up with a retarded Brazilian guy. (Or maybe just all Brazilians sound retarded?) After we ditch him, it was barefoot time up the sand dune. We perched ourselves on the top of the cliff with Sean up and watched the sun set. It was good. And so was the sprint back down the sand dune afterwards!
In town we all went out for dinner at Todos Natural for Sean & Monika had heard they do good veggie food. I was just pleased we caught them at happy hour so I could order myself 2 Picso Sours for the price of 1 (= 1,000 pesos each) and a beer! The food was great and came out with amazing presentation. My chicken & noodles looked like a giant alien insect eating a rotting brain. So cool! The other meals followed suit and my pancake dessert with ice-cream & chocolate sauce was also amazingly yummy!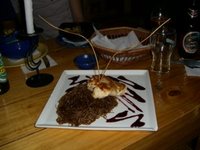 Sean & Monika went home, I did some Internet and on the way back I bumped into the 3 students I'd met in Ushuaia. They had just arrived, I'm leaving tomorrow. We only have a quick chat in the street, they're tired and wish to go to bed. Bloody typical, I was quite up for another beer myself! We swap email addresses in case we're able to meet up at later date.
Posted by Steve Eynon