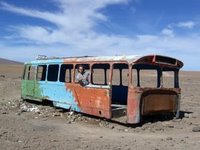 Had a bit of trouble checking out of Hotel Elim as the woman wanted exact change which I didn't have. Luckily her hubby turned up with breakfast bread and change before we had to leave for our bus. We walked our bags into town and claimed seats on the large mini-bus, as did a few others including a thin German woman. She paced on the bus, paced off the bus, paced on the bus and all the while audibly swearing and muttering to herself in English. "Fucking Irish, I hate the fuckers. Better not be any fucking English speakers here. Shit, they're always too fucking loud." She sit restlessly at the back and to no-one in particular, "Shut up! Just fucking shut up before I stick my fucking foot in your mouth!" She's crazy, we ignore her. The bus fills up and we move off. A no-nonsense Swede sits next to her, "Where are you from?" he asks. "Fuck you!" "Well, fuck you too!" At the Chilean immigration we all line up to get our exit stamp. All except the crazy woman who paces up, down and around the buildings muttering to herself. We observe a wanted poster for Juan Pablo! That's like the Latin American equivalent of John Smith!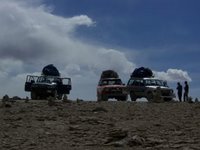 It's a 20 minute off road ride to the a mud hit, sorry, Bolivian immigration. It's 1,500 Chilean pesos to get in - I use up my loose change, hurrah! Another 10 minutes and we're at the White Lagoon. Here we split up into groups of 5 or 6 as for the next few days we're in beat up Toyota Land Cruisers. Sean quickly grabs Kumi (a small Japanese girl) and Ana (a British Indian) so we don't get lumbered with the crazy woman. We are joined by Isabelle, a French woman. We're happy to have her aboard, she speaks fluent Spanish!
We cruise into the dessert and stop at the toxic copper Green Lagoon, through the Valley of Salvidor Dali and arrive at some mud geysers. They were brilliant, nay, fantastic! Steaming holes of bubbling mud. Air escaping out of one pit sounded like a jet engined aeroplane standing at an airport, it was so loud it left a ringing in your ear. The smokey vapour wreaked of a sulphur eggy smell. But it was so cool watching large lumps of technicoloured steaming mud bubble and spit. Only the video clips can even attempt to do it justice. Back on the jeep for more Bolivian Pan Pipe music courtesy of out driver - Arriba, arriba!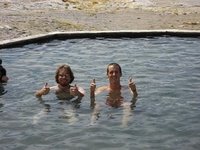 We stop at some hot springs for a soak, it was truly bath temperature. The crazy woman makes us all ill by proving she doesn't believe in shaving her legs. Urgh! Lunch followed but I didn't eat much because I felt queasy from too much sin (um, I mean sun), the hot soak and the altitude. I drank lots of Coke instead.
We stop at a small lodge overlooking the Red Lagoon for 16:30, we're to stay the night. 6 beds / 1 jeep per room. The beds were wooden slats with cardboard as the mattress / support. Soft they were not! We took a walk part ways around the mammoth Red Lagoon (containing the same pigment as carrots) to stalk some flamingos (a pun!), carefully avoiding the crazy woman. Veg soup, spaghetti with tomato & onion salsa for dinner. It's bed and lights out for 20:30. Everyone is fully clothed in sleeping bags under thick blankets. We expect it to get cold, some -8°C cold.
Posted by Steve Eynon