I get up and shake the bat droppings off my mossie net. A couple of bats got trapped in the thatched roof and spend the night flapping about. I dunno why - it's not like my hut has walls or anything!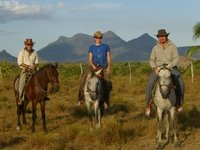 Charlo takes Ian, Sarah and I out for a ride before Brekkie. Holly, the Bushmasters dog also joins us for a walk. We ride to the top of a small mountain and look out at the spectacular view of Charlo's vast land. The best part was appreciating that you're no where near any civilisation (not even by Guyana standards) and that you and your mates just rode up there on horseback from a real cattle ranch. It's unreal and the feeling just simply amazing.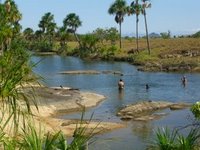 From there Charlo takes us to an idyllic creek crossing with clear, clear warm water where we tie up our houses, strip off, dive in and cool off. I'm still digging the horse transportation thing. Charlo mentions that horses are the original 4x4 vehicle! And come rainy season, they're the only mode of transportation that can cope. On the way back to the ranch we take out time to choreograph video footage of us galloping full pelt across the Savannah, reins in one hand, lasso swinging in the other, etc... Not bad for my 4th time on a horse! (And Ian's 6th!)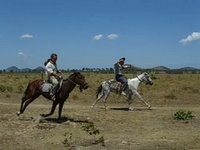 On return to the ranch Ian and I have an impromptu race around the corral, through the gates and into the ranch. It was so exciting (right angle turns at full gallop) that we decide to do it again for the benefit of the camera. Only the camera was on the wrong setting forcing us to do it again, twice! Ye hah! The only bad part about galloping is stopping because the horse then slows into a fast trot - an arse slapping, ball crushing trot! The stop trot is not funny. Both Ian and I felt it.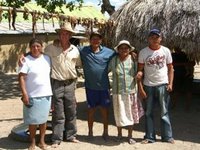 Unfortunately we have to drive back today so we pack up and load up the 4x4. We say our goodbyes and drive off, giving Charlo and Colette a lift back to Letham. We stop along the way for home made beef and cheese snacks and Charlo tries and spot giant Anteaters with his binoculars. I watch the temperature gauge on my watch clock up an outstanding 48.4°C in the sun. And this is at 3pm, the cool of the afternoon! It must have been well into the 50s at mid day. I always thought it rather warm over the past few days but never thought to actually check the temperature.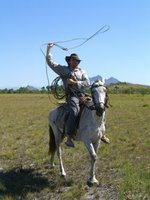 It's another 4 hours off road drive back to Lethem. I discover that any 2 parallel cattle tracks is a road and a dirt track is practically a modern motorway! Whilst driving, Ian feels something on his foot, looks down and sees a scorpion scuttling around! It disappears under the floor mat and Ian, being the hard man he is, can't be arsed to fish it out. If it stings, it stings. Ooo, and we see a little desert whirlwind too!
I check back into the Takatu hotel, shower (cold of course), shave, grab a cold beer and dream of racing across the hills on horseback. The pain in my arse making it all the more realistic!
Posted by Steve Eynon