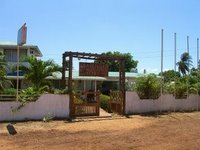 I sleep in and get up for Breakfast at 9:00am. It's a version of egg on toast. I listen to Hardcore and read about Brazil in my Travel books until Ian and Sarah turn up at 13:00. Ian takes me to visit the Tu-shau in Lethem. He's the chief / mayor person of several villages in the area, including Camu - a village at the foot of the Kanaku Mountains. I've decided to head back into the Jungle for a few days before checking out the Bonfim Rodeo. Only this time I going in alone! To do this I need to ask the Tu-shau permission to visit the village and the mountains beyond. I also need him to reserve me Mike, the mountain guide. The Tu-shau lives in a ½ built brick house and answers the door in jeans, flip-flops and a T-Shirt - well this is 2007 you know! He approves of my visit and tells me to pop in on my way to the mountains to pay my village dues - I mention I'd like to go tomorrow.
We go to buy me some food for my Jungle excursion; cheese triangles and crackers for lunch, chocolate bars, dried noodles, small tins of chicken sausages, dried soya lumps and some chicken & tomato stock cubes - a veritable feast by any one's standards! Ian also lends me a mosie net for my hammock, a basha sheet, a cooking pot and what looks like a 3 foot, 2 handed Machete from his 4x4! Woah - this thing is straight out of a Friday 13th film! It's awesome. I want it. No wait, I positively need it!
I go back to the Takatu hotel to pack. Ian comes round later for dinner (as previously planned) but sans Sarah as she's having an early night. He seems a little vexed at Sarah's unnatural ability to sleep. We head out to the airport (5 minutes walk down the road) for a couple of beers. But we end up back at the Takatu to watch the American Superbowl with a couple of other hotel residents. It's here we have our first sighting of the Phantom. The Phantom is a very large (read tall and broad), black American Hip Hop DJ. Trained by the Grand Master Flex he's chillin' (resting) here for a few weeks before working all out at various clubs and venues around the East Coast of Brazil for Carnival season. After the Superbowl Ian and Phantom talk politics. I keep quiet - I know nothing, hence don't have an opinion.
Posted by Steve Eynon