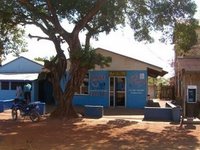 My 4x4 Taxi (as organised by Ian) turns up at 8:00 am. It's a large, well kept, white Toyota Land Cruiser driven by David, a black Guyanese guy. We go to visit the Tu-shau, who's not in. He's gone off to some village somewhere to help out. Useful. So we go visit the deputy Tu-shau but he doesn't have the official Tu-shau stamp. He reckons that as long as the Tu-shau knows I'm going it should be okay and I can pay my dues on the way back. Next we have to find my guide, Mike, only nobody seems to know who he is or where he lives!? We stop and ask various people on the way to the mountains until one guy, carrying a large log on his shoulder, says, "yeah, that's me!" But Mike is busy helping the village build a Benab (thatched building) that day and suggests we depart tomorrow instead. So I go back to the Takatu Hotel and check back in, only 2 hours after I checked out.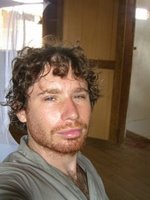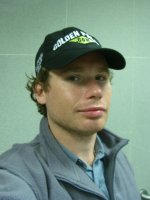 I grab breakfast, another variation of egg on toast. I sit outside and sharpen my oversize Machete and drink coffee until I slip and effortlessly draw blood on my right fore finger. I figure I'm a liability with sharp blades so I head to the Internet cafe. There I'm introduced to Pat, an old American Gal, who wants to copy an application from her old laptop to her new one. So I kill a few hours copying over files, registry settings, dlls, etc. Ian and Sarah are staying at Pat's place until their house is built. I show Ian and Sarah this blog for the first time. Sarah notices a couple of before and after survival photos and finds them real funny.
I plan on an early night but at the restaurant (well, an outdoor shack that sells meat on a stick with rice - morning, noon and night) I'm invited to join a table of people who are doing research for the University of Hawaii. I'm tired and find it difficult to join in their nerdy conversations. I say goodbye and head back to Takatu and am intercepted by the Phantom. I stay up chatting about Brazilian social politics and business ethics for a couple of hours longer than I really wanted.
Posted by Steve Eynon