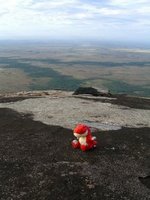 I wake at 6:30 am after sleeping rather soundly for at least 13 hours. I must have been shattered! Mike and Philip complain they didn't sleep much due to the cold. Eh, cold? Oh well, credit must go to my sleeping bag then (Snugpak Merlin Softie 3)! Mike boils some water so I grab some hot Chicken'n'Tomato soup and a choccy bar for breakie and pack up. After ½ hour we reach a clearing, sorry, a campsite where we ditch our main packs. We're about to attempt the final accent to the top of the mountain and as we'll be passing through here on the way back, why carry all the extra weight eh? I'm down with that, so I clip my Camelbak to my belt, grab my Sigg (water, always need more water!) and we set off.
The climb is steep, steep, steep and takes us 1 hour. Along the way we pass 14 stations, markers in the shape of a cross tied to a tree which are supposed to be symbolise the 14 stations of Christ in Catholicism on Good Friday or something or other. Religion is yet another topic I'm ignorant in.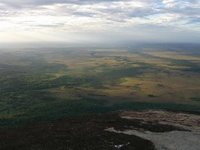 From the undergrowth we emerge onto the peak, the rock on the top. The Guyana Savannah flats stretch out unbroken and undisturbed from the floor of the mountain below us. Our perch is some 3,700 feet high (1,200m). The height itself may not be that impressive but when everything else is at sea level the views are immense. The sudden sloping drop off as you approach the edge of the rock gives you a real sense of vertigo too! We chill there for an hour or so, lying down and taking in the views. It's great to close your eyes, doze, open them again and see nothing but the vast expanse of Guyana (and a bit of Brazil) in the sky.
We head back down, see Howler monkeys, grab our packs and set up camp - but not in the campsite for that has too many old and dry trees - the chance of dead fall is too great! Mike delights in making me a bush table by my hammock and a bush clothes horse while Philip goes off hunting.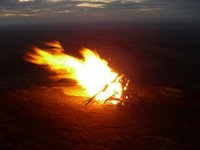 Come 16:00 Philip returns empty handed and we head back to the top again, only this time to make a signal fire (read giant bonfire!). Mike says he always does this to let people know where he is, that everything is okay and that we're heading back tomorrow. After another hard slog to the top we sit and wait for dark. Guyana has no street lights and the only light pollution we see are orange bush fires and the small sprawl of Bonfim in Brazil. We get the fire going - it's awesome! We start pulsing our torches to Guyana below and get 4 individual locations signaling back! Cool! The wind on top is fierce at 30 mph (measured on my Windmaster watch!) meaning our fire burns hard, hot and fast. Once it goes out we leave for camp where Mike and Philip make themselves a large fire to see them through the cold night.
Posted by Steve Eynon