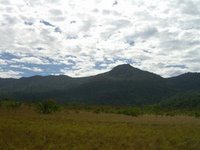 We're up, packed and leave by 8:00 am where it becomes a race to get to the bottom of the mountain by 10:00 am to make our rendezvous with the 4x4 ride back to Lethem. The route is straight down the mountain but progress is hampered by the uneven surfaces - you're either dancing down pointy stepping stones, clambering under and over fallen trees, slipping down steep muddy slopes or discovering that some logs and branches are rotten and no, they won't support your weight! We also come across a troop of large, black Spider Monkeys and we watch them watching us! As we race on, time becomes tight but as we emerge out of the jungle and into the flat Savannah, our white taxi is just pulling up. A perfect, military precision, jungle extraction! David (the driver) notes I'm looking hot, sweaty and jungle rough and says the only thing that'll get him to the top of the mountain is a "White Chick"!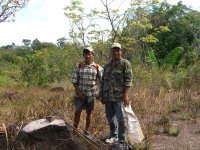 We bump into Ian and Sarah in Lethem (it's not a big place!), they're waiting for the Georgetown (GT to locals) bus to arrive with a couple of Canadian girly mates of Sarah's. Back at Takatu, David the driver wants more money. I begrudgingly pay up another $12,000 GYD (25 GBP-ish) as he seems to be mates with Ian. Daylight robbery. Shower, change, brekkie (yet another variation on egg on toast) and to the bank to cash more Traveller Cheques as that David cleaned me out (Okay, I take back previous comments on Traveller Cheques being useless). I bump into Charlo (ranch owner, leatherman extraordinaire). He independently says David robbed me. I wince but claim it's not like Lethem has a taxi service or anything. Bummer.
Sarah has 2 fowls but they've been missing / roaming free for 6 months - until now! Paddy has just been picked up by a nearby farm so I join her, Ian and Monica (one of the new Canadians on the scene) to check Paddy out. Ian has procured me a 50 foot real raw hide lasso! (A steal at $25 US!) So while Ian and Sarah coo over their horse, Monica and I try out my humongous lasso! Not many people can claim to have one of those now!
We pick up the other Canadian (also a Sarah) and head to Moca Moca waterfalls for a splash around, but not before picking up beers and 2 American lads en-route; Shaun and Clay. They're tall, skinny and have their own air-con pick-up truck. The new girls can't stop talking about them. I've been out classed already!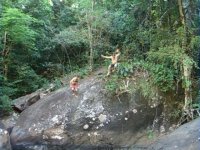 At the falls we strip off and jump in - being selfish and body conscious I'm pleased to note that Shaun has a sticky out belly like a hungry Ethiopian - not that it seems to deter the girls at all. Humph! Clay jumps off a massive rock into the shallow pool below. Testosterone fuelled Ian and I just have to follow suit. The girls don't understand. It seems so high standing at the top (well, it is!) and the pool is so shallow that when you land, your feet touch the bottom - I love it! I go again! I'm about to go a 3rd time when Ian proposes I jump off even higher, and out through the over hanging bush. I climb back up and contemplate it. Hmm, it's dangerous, has difficult angles and requires a large forward jump for clearance. I dare myself, proclaim I'd like to see the inside of a Guyanese hospital (if they exist!) and jump. Awesome! I go again! Only this time Ian jumps off a lower ledge at the same time. We rule! The girls aren't impressed.
There's just enough time to shower and change before we all head to the Bonfim rodeo (well, all except the Canadian Sarah). Ian really wanted to drive his 4x4 over, through the border river but is deterred by broken headlights and the fact Bonfim, being in Brazil, is a real town with real Police! We grab a couple of Duck Curries each (a stubbie size bottle of Rum) and take a water taxi instead. The rodeo is a large metal corral and a couple of multi-tiered stands. There are no bulls or horses to start with, just pre-show hype and entertainment. So we drink instead. It's a fun evening with a mix of fairground rides and real rodeo bull action!
Posted by Steve Eynon