I hurriedly reconcile my jungle gear with my main bag, re-pack everything and load it onto the 4x4. All the local boys had turned up to say goodbye. It was a real nice gesture. They were all fantastic, kind, keen to impart knowledge and I'll miss them all. We leave to head back to Rock View Lodge to catch a plane - I conveniently leave my head torch behind. Doh!
In the back of the truck with me was Uncle Theo, the oldest elder in the village with 11 children. He says he's going to Rock View to take care of "business". I rib him that he's going to see a woman! Oh, how the old ones are the best! (Cool, is that a pun!?) Lionel and his wife come too, all decked out in their Sunday best - they're going to see their daughters Head Mistress in Annai in the afternoon. There's just enough time to buy each other a beer before the plane turns up (another tiny Cessna).
It's a clear day and during the flight all we can see is miles and miles of Jungle. Should we survive a plane crash, I realise I'm not bothered about living in the Jungle until a search party turns up. The pilot thinks we're all crazy.
Landing at Kaieteur Falls I realise I look like a colourful tourist. I decide I'm no bothered as I've just proved I'm a hardened jungle survivalist! Ian reckons not even the local Amerindian boys would willingly undertake what we just done, especially with no real jungle knowledge and no lighter!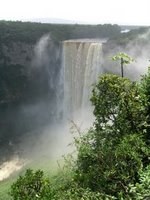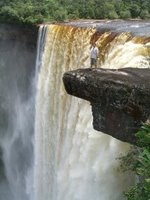 A park ranger takes us on a tour of the various viewpoints of Kaieteur - each one getting closer and closer to the falls itself. It is just simply awesome! The longest single drop waterfall in the world (Angel falls was just the highest) and it has 3 times the amount of water flowing over it as Niagara! The best bit is that you get to stand right by it, in it and on some very precarious rocks nearby! We also spy some little Golden frogs whose toxin is 160 times more powerful than cocaine!
Back on the plane we head to Baganara, an exclusive Island resort on the Essequibo river as used by the likes of Mick Jagger. A fantastic, nay beautiful, colonial looking resort - it just oozes upper class. It even has HOT showers! With Bushmasters as the only guests on the island we spend the afternoon knee boarding, wake boarding, playing cricket, football, pool and table tennis! I shave off my beard and rip off the floppy bit of my finger so it can heal properly. After dinner it's beer, vodka and karaoke until 3am.
Posted by Steve Eynon