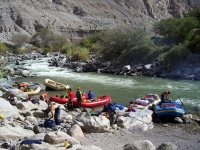 The morning saw us wandering round the awesome Inca ruins again before returning to the camp site. For some reason the guides were having difficulty packing up the rafts and us punters seemed to being hanging around for ages before it was time to set off.
Nothing too taxing or skilful today as the river was mostly wide, spread out and shallow. You would think it meant it was easy but I kept falling out at the most inopportune moments. Similar to the first day, whenever the raft suddenly grounded on rocks or a sand bank, I would keep moving and flip out over the side. And yes, I'd be saved by the girl again!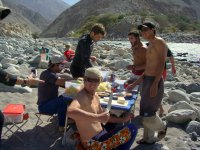 A long lunch on a flat sunny embankment helped ease my bruises before we set off again. For a large part we were racing Testosterone-1. Obviously we couldn't out paddle their muscle so instead we tried tactics and when the river split, we took the shorter (but usually shallower) path.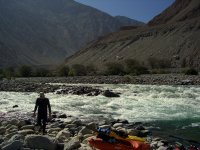 It was a long day with lots of paddling and we didn't arrive at our planned camp site until late afternoon as the sun was setting on the canyon. Everyones' arms ached. A strong wind and a touch of rain made pitching our tents on the sandy beach that much harder.
As tired as we were we still managed a few good games of 2 truths and a lie around a blazing fire. The best part being the ribbing Mark got from the two Aussies in his Testosterone-1 raft - "I'm Australian, I drink beer and I saw Mark paddling really hard today!"
Posted by Steve Eynon