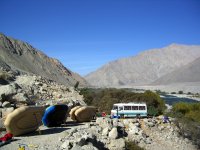 We pack up our gear for the final time. Today was to be our last day's rafting.
The river stayed largely flat and wide like yesterday and I narrowly avoided falling in several times. We pushed on and come mid day we reached our pick up point. We all helped unload the gear and carry it (bloody heavy rafts included) up the embankment to the waiting transport. Fortunately the organisers has prepared a cooler of cold beers to make the heavy lifting all the more pleasurable!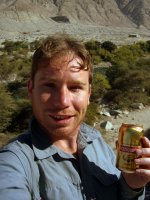 So, that was it. We were all one of the first 400 people to have ever rafted down the remote part of quintessential Peru known as Cotahuasi Canyon. It was an awesome experience to have travelled such a distance entirely under our own steam. But no more, 4x4 vehicles drove us the 6 hour journey back to Arequipa via views of the Pacific Ocean. We figured rafting that would be a whole different experience!
We arrived back late evening and checked ourselves back into the hotel. We spruced ourselves up and headed out to a bar we'd hired out for food, drink, cocktails and a photo slide show!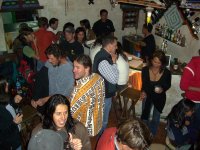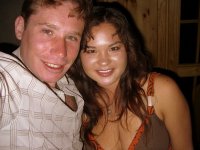 Despite everyone feeling a little knackered from the excessive rafting we all did well and a merry time was still had by all. A couple of us hardcore headed out to hit the clubs after but I'm happy to report that this night I managed to make use of my luxury bed!
Posted by Steve Eynon