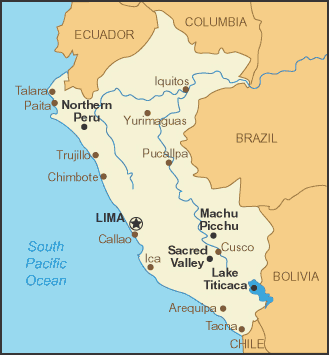 Most of the crew on the rafting trip continued their adventure onto Cusco to visit Machu Picchu. Myself I have other plans. Today I start my journey back to the UK.
Bags packed I fly to Lima, Peru's capital. I need to overnight there before I start my various international flights back to Ol' Blighty. Choosing a cheap hotel from the airport I grab a taxi to take me there.
Driving through a rough neighbourhood I am reminded somewhat of the first day I set out on my adventure. There in Venezuela I was also driven through a rough part of part town on the way to a cheap hotel. Back then I remember being fresh faced, concerned for my safety and spoke no Spanish. And now? Well after some thought I concluded I was clean shaven, the guys on the street corner could do me some damage and my Spanish definitely still sucked!
A lively last night in Peru I did not have. I had picked the wrong part of town to stay. This place was mainly an industrial estate - it took me 45 minutes of walking just to find a suitable restaurant to eat at! I can't say I was too bothered, it had been a good night last night and I still had a couple of days of tiring travelling to go. With a 5:00 am start in the morning I valued the need for some decent sleep.
Posted by Steve Eynon