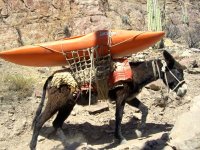 After packing day packs we pile into a mini bus for a short ride down the road. Packs of donkeys were being laden up with our gear and equipment. The set off point was a buzz of activity - it felt as we were about to embark on something truly special! So why donkeys? Well, they certainly weren't going rafting with us! But it was one long day's walk to reach the rafting put in point and donkeys were the only way to get all our stuff there.
Today we were to walk deep into the Cotauhasi canyon until we meet the river. This canyon was recently credited with being the deepest canyon in the world, and is twice as deep as the Grand Canyon!
Rafting aside, today was without a doubt was my favourite day on the expedition, for the views offered up by the canyon were truly spectacular; even for my weary sight seeing eyes!
It was a long days walk along the inside rim of the canyon gorge. Sure we passed a lovely deep raging waterfall in the morning but the afternoon gave us a stroll along the inside edge of the canyon. The scenery was HUGE, one photograph shows a steep cliff face, closer magnification shows a trail etched in the side of the cliff with donkeys following. An yep, that's where we're heading! Most photographs of the area didn't turn out at all simply due to the sheer scale of everything! The mountains, the drops, the gorge, the view, just didn't fit into a single frame! The massiveness of everything meant there was nothing to photograph for I just couldn't fit it in my view finder!
Happy as I was, I skipped the last hour or two down the side of the gorge to the river, overtaking most people in the progress. This earned me the nickname "Skipper"! And given we were about to spend a week on boats, I didn't think it was half bad!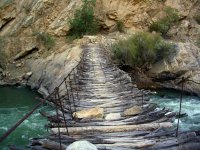 One more dodgy Peruvian bridge across the raging torrent and we were at the camp site. We had lots of spare tents (I guess someone couldn't count!) so I was happy to learn I had one to myself. And it was brand new too! The nice thing about these new tents is that, assuming you didn't put the fly sheet on, the meshing over the top afforded open views of the starry nights and bright mornings.
Posted by Steve Eynon