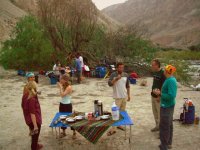 Similar to the aripurmac, our rafting adventure starts with some trial rescues and some safety speeches. We're on a 100 mile stretch of continuous grade 4 rapids with some grade 5 thrown in for good measure. We're in a remote stretch of Peru and should anyone get hurt, their only way out is down river at the end of the trip. There is no way out!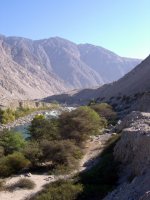 Once we've been purposely capsized a couple of times and rescued by ropes and safety kayaks we begin our descent of the Cotauhasi canyon. Michel and I take the power house positions up front while Heather and Renne sit behind, the guide at the back. A couple of sizeable rapids ease us into the river and excitable chat ensues during the calm afterwards. I'm sat on the edge of the raft as it continues to drift, it rotates so my back is facing downstream. We suddenly ground out on some low rocks and come to an abrupt stop. Caught unawares my body keeps travelling and I back flip over the side. I grab hold of the raft and before I know it Renne helps pull me back inside the raft. "That water's bloody freezing!" I splutter.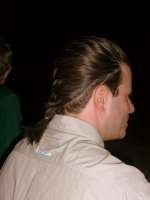 "Yeah? Well your ass has just been saved by a girl!" announces Renne, her smug mode on! I hang my head in shame, I fell out in what would possibly be the easiest part of the river trip!
We stop and make camp early. Because we're not yet into the routine, everything takes 3 times longer than it should. We haul everything out to the camp site, set up the kitchen, grab our personal gear and set up our own tents. Today we find a nice sandy plateau to camp on.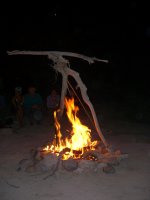 It soon goes dark and we huddle round a large fire. Mark, a New Yorker and avid rafter (with all his own gear) made the mistake of sitting next to the females with his long hair. It was French Platted before he knew it!
Spinning a couple of light sticks on string made for some evening entertainment and some cool photos. (Well, for those with professional cameras!) As we set alight a swiftly made effigy I came to learn of Burning Man, a week long commercial festival in the Nevada desert starting on American Labour Day, or 1st September. Essentially, it sounds like a modern day, soap dodging hippy convention but it still sounds pretty cool!
Posted by Steve Eynon