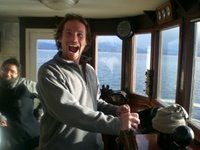 Woke up around Midday not wanting to spend another whole day on the Internet so I decided to take a little boat trip around the Beagle Channel to see some wildlife. I book myself on the Barracuda, Ushuaia's first tourist boat. 80 pesos for a 3 hour round trip. She's some 50 years old and looks quite beautiful as her interior retains many of the original fixtures and fittings. We set sail with just 5 other passengers - a Spanish couple and 3 Israelis who just happened to be the other occupants of my dorm room. They had just moved in and recognised me as the person they disturbed getting up that morning.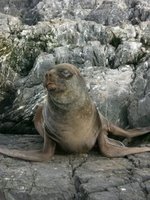 I chat to Elaina, Ella and Mark until we get to our first Island (Alicia Island) and see South American Sea Lions - Roar! Large lumps of blubber so called because the older males have big shaggy manes. Each male has his own harem of ladies that are usually strewn on and around him. The ladies in one group were all so comfortable with their master that they didn't bat an eyelid when he let loose a big mushy pile of chocolate moose right from under him (and them) and emptied his bladder at the same time. Now you try doing that at home in bed with your missus and see what happens! We also saw lots of King Cormorant birds too with bright shiny, deep blue backs.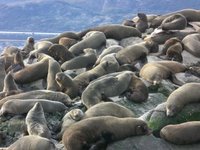 It became obvious at this point that the island is a big tourist attraction because various other large and ugly tourist catamarans were bobbing about near us. But none got anywhere as near to land as our vessel whose bow practically skimmed the island as it floated past under slight motor control. A very skilled captain indeed. We then motored to the next Island, Isla de los Lobos. We were passed by a couple of the other modern cats, not that we cared - out boat was so cool we wanted to take our time and spend as much time on it as we could. Next stop, Fur Seals. These were smaller and more playful than Sea Lions. Much cuter.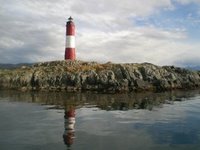 We pass a small rocky outcrop. It is told that in 1930 the German captain of the German passenger ship Monte Cervantes made a couple of grave errors on a perfectly clear sailing day and grounded, and subsequently sank his ship. The museum says the captain was the only casualty as he decided to go down with his ship. Our guide continues, "Which is just romantic Bullshit for tourists as the ship remained grounded for some 25 years. What actually happened was the captain made excuses to return to the ship to retrieve some documents and such was his shame, he put a gun to his head and shot his brains out." She was a nice girl, our guide.
Later I phone Australis about their cruise tomorrow. It's all booked up but I could hang around tomorrow afternoon and see if there are any cancellations. Bugger. I had planned to leave Ushuaia tomorrow morning when all the buses leave but I'm persuaded to stay an extra day on the off chance of getting on the mini-cruise.
Rockafore Cod & Salad for dinner (the best!) followed by Internet at my favourite place until 02:00 watching American Werewolf in Paris. "It's all true!" shrieks Ezekiel again. Strange boy.
Posted by Steve Eynon