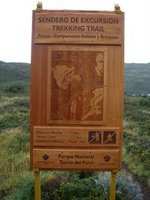 Up at 09:30 to try out my Brekkie (porridge with milk powder, sugar and fruit & nut) - it's good! Then I have to put my tent away - it's still raining hard, everything's wet and cold. I score some 4 pegs off the camp site owner for free. Result! (I only lost the 1 giving a net result of +3) I'm finally ready to leave at 11:00. Most people stay huddled together in the kitchen, no-one wants to leave or endure the adverse weather. No-one except me!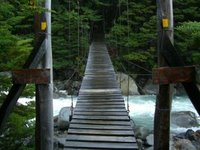 I arrive at Campamento Italiano in a very soggy state. Decision time. Am I to endure hardship to Campamento Britanico (part of the W) or continue round the circuit? If I went to Britanico I'd have to camp there but a couple who'd just day tripped there said it's a mud pool with a torn and tattered tarpaulin shelter exposed to extreme wind. Given last night, I feel my tent wouldn't last and I'd get hypothermia. Also looking at the map and planning ahead (who, me?) if I continue round the circuit there's a chance I'll get to see the Torres at dawn - one of the main reasons for being here. Everyone else I speak to have / are skipping it too or are just buggering out of the park completely - they can't take it anymore! What sold me the decision to continue round the circuit was another couple who said, "You can't see anything up there, but it's sooo beautiful!" Frigging Tree Hugging Hippies.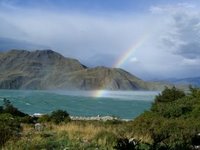 So I bug out of Campamento Britanico and round the lakes I go. I'm not impressed with the trail. It's a manicured gravel path and the scenery isn't that impressive. Maybe it's the bad weather or the bleeding heavy rucksack but I find the walk a bit dull.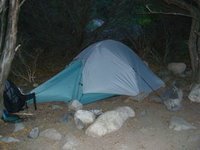 Camping Los Cuernos is a little bit of paradise. As I approached the skies cleared and the wind became warm - 24°C warm! The wind was still there, but warm! Perfect drying weather and dry it did - my tent, my sleeping bag, my clothes, my stuff, all dry! Plus I'm able to pitch up in the shelter of trees. Using all my pegs and huge boulders to keep them pegged in I build me a rock solid home. I' m well impressed! I'm even able to get a hot shower at the Refugio. It's all good!
Then during the night comes the wind. Boy'O'Boy is there wind! And it's not me either! These gusts were a blowin' and a howlin'! They flattened a couple of tents but not my rock solid effort! Next morning, wind was the talk of the camp site.
Posted by Steve Eynon