Up at 07:00. I didn't sleep at all. Even I'm worried about this little adventure! I booked the bus for 07:30 with the hostel last night. When it turned up it was largely empty, leaving plenty of room for my oversized back pack and my box of food. The bus was old, shabby looking, lacked any power whatsoever and really struggled up the meager hills during the 2½ hour ride. That might account for the driver having his foot permanently stamped down on the accelerator. For everywhere but the hills he was taking straights and corners far too fast for any ones comfort!
A couple of nice Israeli girls on the bus try to talk me into trekking with them on the W trek. But I can't have couple of flouncy females, no matter how attractive, deter me from fulfilling my destiny :: The Full Circuit - Solo & Self Sufficient!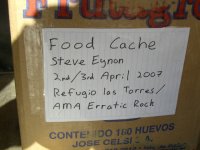 On entering the park I pay my dues (15,000 pesos - £15) and see a white Mercedes Sprinter van marked Las Torres. Following a tip off from the free talk about the trek, I walk over, tip the driver 300 pesos and he takes my food cache. With a bit of luck I'll see it again in 5 days.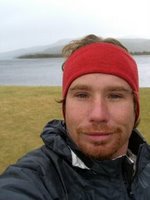 I don't get off the bus with everyone else, instead I stay on until we reach the CONAF Administration (on Lago del Toro) - I'm the only one on the bus! Today I'm doing an extra leg on top of the circuit. (Crazy, I know!) I remember being told the views on this leg are fantastic and unlike anything else I'll see on the trip, but only if the clouds are high and the sky clear. I put my coat on in the CONAF front porch amidst rain, drizzle and thick low cloud. Hmm. Too late now! Hey, you never know, it may clear up!?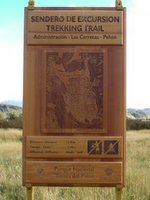 I set off at 11:30 with my bleeding heavy rucksack (which must weigh at least 15 Kg easy) - then turn back again. No wait, this way. No, that way. Where do I go? Bugger. I stop, take the pack off and dig out my map. Where the hell is the start of this bleeding trail!? With the help of the map and a park ranger I find it, 5 minutes down the road in the opposite direction to where I want to go! Come 12:00 I've begun The Circuit.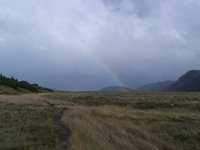 The walk is no different to wandering the hills in a wet and windy Wales! I wonder why I left! I stop for lunch at Campamento Las Carretos - a wooden sign and an open backed wooden hut (shelter). 2 tortillas and pork pate. Yum! I also scramble to Rio Grey to take some much needed water. I try out my stove for the first time and make coffee for my Thermos. It works!
An Irish couple, Frankie and Don, are staying there the night. They recognised me from the Ushuaia bus! But being made from sterner stuff I soldier on for another 3 hours to Camping Paine Grande - a place on the official circuit! Not the usual starting place mind. I am doing this somewhat differently to everyone else! It's windy, cold, damp, 17:30 and I decide to stop so I can set up my first camp in daylight.
In the shelter / kitchen an Irish couple, Rachael & Michael, seem keen to meet me and intent on plying me with Red Wine! They had a crap camping night last night at Glacier Grey whereby the wind destroyed their tent. For tonight they've borrowed one from the campsite owner and have a need to get drunk. It's a good conversation which takes us back to their tent for more wine. I'm waxing lyrical about Guyana and the Jungle again. It seems I still haven't got it out of my system.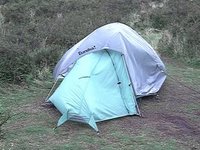 I retire to my tent but wake up feeling cold. Later still I wake up with the tent collapsing around my head - the wind is howling. I try to ignore it (I'm knackered) but am forced to get up, take action and re-peg a few. I'm several pegs short. Later still, with the rain and wind battering the tend around me, I wake up cold again. Only this time I'm already wearing all my clothes - I'm not going to get any warmer. I think back to last night in town when I was wandering about in a T-Shirt. Not now, the weather is officially crap!
Posted by Steve Eynon