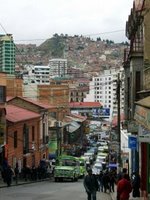 I open my eyes to see Anika across the room. She ups, packs and leaves without saying a word of goodbye. Nada. I wonder what I said? Maybe it was my wonky finger? Anyway, I decide I've had enough of being shunned and left behind by girls and decide to kill myself instead. I book myself on the 5 day trek and climb of Huayna Potosi for $205 US.
I leave tomorrow morning. So I do some last minute shopping, buy a shed load of chocolate and a giant bag of Coca leaves. I'm also able to wrap up and post some photo CDs back to the UK. It's a busy run-around day and I rest for a pint at Oliver's Travels. Only the waitress gives me the address of a tailors she uses and recommends. So I finish my pint and jump in a taxi. I've been thinking of having a suit tailor made for Timbo's Wedding as the only one I have back in the UK is 2 sizes too big! I'm not taken to a suit shop but rather to a suit zone - 100s of tailors and material shops all back to back around several streets and squares.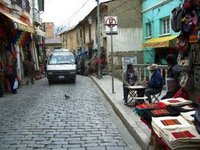 It took me a while to find the recommended "Soliz &Mendoza" at 911. The tailor didn't speak English and I have trouble ordering food in Spanish, let alone discussing the intricate details of suit design! I was taken to a material shop where the kind husband and wife team tried to help me pick out a colour. Man was that difficult! I had no vision or idea if this roll or that would translate into a good suit or not!? I also wanted stripes so it could potentially be used in a work situation too. I finally picked one through a long process of elimination. Picking a suit style was substantially easier as I simply opted for a "Classico" look! The suit set me back 520 Bs and will be ready in 5 days, meaning I can pick it up straight after my mountain climb. Perfect timing!
Around the tailor shops was a superb market where I was definitely the only Gringo around. I celebrate by eating off a market stall for 8 Bs. As I chow down my fried Chicken and Corn I mull over my suit. I think I chose the wrong material. I think the green with yellow stripes will make me look like a clown.
A taxi ride back to the centro and I decide to enter the very local establishment next door for a quiet beer. No such luck. All eyes are on the gringo as I stroll to the bar. Before I could order anything an older man at the bar insinuates in pigeon English that I drink with him and share his beer. He wears a brown leather jacket, aviator shades from Chips and is very drunk. I decide to accept his offer.
We sit at a table and I ask his name. He rolls up his sleeve to reveal a skull tattoo in a WWII German helmet and something unpronounceable scrawled underneath it. It's his name. He seems pleased with my attempt to pronounce it. In his rambling state he clenches both hands in the air and tells me he's so "Macho, macho, macho!" I think I'm supposed to be impressed with the bicep muscles I can't see under the jacket. I tell him he's "Macho." He's happy. He then tells me he's a policeman and systematically starts shooting everyone in the room with his finger to prove the point. To substantiate his claim he produces a piece of green laminated card from his wallet. For all I knew it could have been his library card. Regardless, he's a psycho and I formulate an escape plan.
I go to the bar to buy my share of beer. The barman motions to my drinking buddy, shakes his head and says, "No amigo." I shrug my shoulders in agreement, "But what can I do?" I return to find him drumming the table to some tunes he just put on the jukebox. He leans over, puts a hand on my shoulder, stares me in the eye through his dodgy shades and says, slow as a retard, "I love you." I hold a blank expression. He shakes his head, disgusted he can't speak English and slowly says it again, "I love you." I was wrong. He's not a psycho. He's a gay psycho. I hurriedly finish my beer, make my excuses and leave. As I stand, waiting for the hostel door to be answered I'm anxious that Mr Gay Macho Psycho doesn't venture outside and realise I'm sleeping next door! The Gods are smiling down on me and I slip inside without being seen.
Posted by Steve Eynon