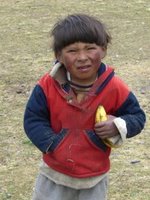 Up at 07:00 to pack, pay the hostel and stash some bags into storage. I'm at the company's office for 08:30 where my guide is waiting for me. Eliseo (say El-lee-seo) is 24 years old and knows a few more English words than I know Spanish. We get a taxi to their main office on the other side of town where we collect our equipment. For me alone this includes white Long Johns, 4 season plastic boots (Scarpa!), crampons, fleece hat, balaclava, gloves, mittens, wind stopping fleece, leggings, gaiters, over coat, down sleeping bag, roll mat, 2 man tent and miscellaneous climbing gear. Something tells me it's going to get cold! We pile everything back in the taxi and head out to the Cordillera Real mountain range, stopping at several markets en route for food supplies. This gives me a chance to pick up water and a Saltenas breakfast.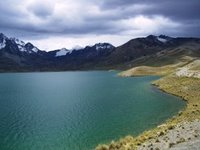 An hour down a dirt track and we reach our starting point - a large farm house. These 5 buildings, or village Tuni, is where Eliseo grew up. There's a bright yellow company signpost, sticking out like a sore thumb, telling me I'm at 4,448m. We eat lunch (cold crunchy rice and chicken from a market), ditch our equipment, shoulder our day packs and start walking. A woman is to load up our donkey and follow later. We walk around lake Tuni and head into the hills.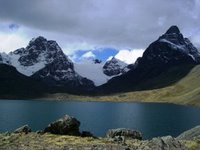 I bump into a Swiss couple walking the other way. "Where you going?" they ask. \
"Huayna Potosí," I answer. "The small mountain." \
"Believe us, it's not that small!" they sneer. \
"Oh, did you climb it?" I muse. \
""Us? No, we're not that stupid!" they laugh. "Oh, and beware of night time," they say admiring my rolled up sleeves. "Temperatures drop below freezing to as much as -10°C" \
"Oh." \
"Have fun, bye!" My guide grins knowingly, shrugs and walks on.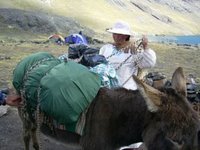 3 hours later we round a crystal clear lake to some old building ruins on the other side and wait for our pack donkey to turn up. When it does I pitch tent, crawl in and peacefully doze in the hot afternoon sun for a good ½ hour. I felt really sleepy even though I'd not achieved much that day, I came to and found Eliseo cooking on a little stove in his 2 man tent. The tent had no fly sheet and mainly consisted of ventilation gauze giving way to the harsh elements outside. I comment on it. He nervously gazes up to the stars above and sheepishly says, "Si, no beuno. Es possible para dos en tu camp?" "No." I say apologetically and shake my head. Cruel, aren't I?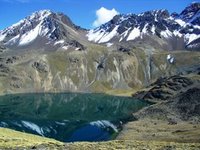 The moment the sun dropped below the horizon the temperature followed suit and dropped considerably. We eat dinner in Eliseo's incomplete tent; Vegetable soup followed by beef in tomato salsa &crunchy rice. Pretty good for a camp meal! Water takes forever to boil at this altitude (4,700m), nevertheless dinner is followed by Coca Matte before we both settle into my small, cosy 2 man tent for 19:30! (Yeah, I let him share with me in the end!) Not being that used to the camp environment and the cold I didn't sleep too well. I kept tossing and turning and waking up every few hours to check the temperature. I noted a minimum of -7°C. Still, at least I didn't have to be up until 07:30 in the morning, some 12 hours later!
Posted by Steve Eynon