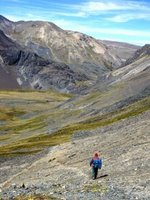 The guide gets up at 06:30, it's barely daylight and still below freezing. I stay in bed until I'm summoned at 07:30. Breakfast is Coca Matte, Sugar Puffs in strawberry yogurt and bread'n'jam.
There's an old man bumbling about who looks after the campsite (but its in ruins!) and I have to pay him 10 Bs. He needs to borrow my pen to write out the receipt. Only then do I discover I have no change and neither does he. I have 7 Bs or a 50 Bs note. Stalemate. He doesn't just want the 7 and I'm not giving him the 50! Compromise. I give him the 7 Bs plus my bic biro!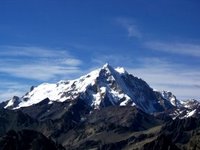 We walk up a pass to 5,050 m and at the top I get my first sighting of Huayna Potosí. Woah! She's a big girl and looks cold, steep and technically difficult! We walk back down into the valley to 4,700 m and stop for lunch. It's fried cheese and pasta, still warm and in the pot it was cooked in at 06:30 this morning. All the time Eliseo was clutching his old Nokia mobie, anxious for a call from the office, something about equipment. Despite his worried look he claimed it wasn't important. Just as well because the call never came. I console him with hot sweet coffee from my Thermos that I made at breakfast. I wanted to try chewing some Coca leaves today to see if it did anything but I found I'd mislaid my personal stash last night. Who needs it anyway?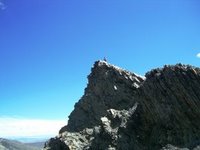 From lunch we ascend to 5,000 m again. Much to Eliseo's dismay I clamber to the top of a steep peek for a look around. He didn't like me racing off on my own. On my return he points out Lake Titicaca} below the horizon - cool! It's my first sighting.
On the way down I had to administer First Aid. My big toes were paining, it felt as if they were rubbing in my hot sweaty boots. Fearing blisters I applied layers of micro-pore tape as a preventative. A trick I remember Brett Jones preaching during our treks in Spain. What can I say other than it seemed to work! But then my knee joints kept giving twinges of pain. I put it down to nerves, being oversensitive and hoped it wouldn't get any worse.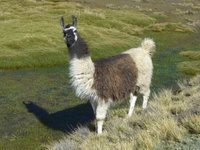 I observe many caterpillars wriggling rapidly around on the grass, relentless in their pursuit of new pastures. Breathing hard and gasping for air myself I can't help but wonder, "Do Insects have lungs?"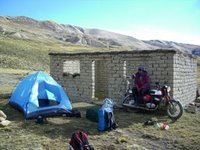 We hop over a wall in a small pass that was built to keep Llamas out! Down to 4,700 m again we walk along a dirt track to our next campsite - some long abandoned farm site. Our pack donkey was replaced with a motorcycle which soon overtook us. We set up camp under the towering Huayna Potosí. I note it's getting closer. I got a little concerned when our "auto-donkey" broke down soon after leaving. For a good ½ hour it sat revving in the distance seemingly unable to engage gear. A friendly dog appeared out of nowhere and I didn't see how it could survive the freezing night. Eliseo seemed adamant that my prediction of 3 people and a dog in the 2 man tent wasn't going to happen. He was right, the motorbike magically fixed itself and the dog ran back to it's shelter over the hill.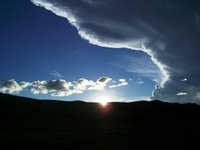 Eliseo said he's really impressed with the speed of my walking at this altitude. I would usually say he's just being kind but I'm also aware we've not been going slow either! Dinner and bed again for 07:15. Lying in the tent we exchange words from my English / Spanish dictionary. Eliseo is keen to learn English, shame he's unable to say "The"! Bless.
Posted by Steve Eynon