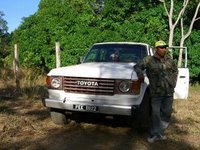 I'm met by David again (4x4 taxi driver) at 7:00 am and we try the Tu-shau once more - success! The Tu-shau writes me note on a scrap of paper, much like what a parent would write when trusting their child to take a note to their teacher.
"To whom this may concern, I have given Steve Eynon permission to visit..."
It then gets sealed with the official stamp. I pay my village dues ($1000 GYD a day) and we leave to pick up Mike. Apparently he marked his road with a white bit of paper in between 2 posts. Here in the wilderness, surely we can't miss it, right!? Hmm, and we don't either! Bizarre. Then we see the Camu Village senior en route to the mountains and he checks my note. My documentation is infallible - it has the official Tu-shau stamp. No-one argues with that.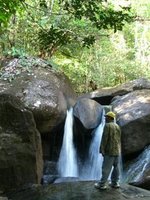 We drive on, do a bit of 4x4 off road and get out. I pay David $30,000 GYD ($12,000 there, $12,000 back and $6,000 for yesterdays prat around), it's a rip off but I don't have much choice. By comparison Mike only charges $5,000 a day for his services.
We leave David behind and Mike and I continue on foot. We walk for 2 minutes and wait at a waterfall for his trainee, Philip, to turn up. I notice they both have little day packs whereas I have an almighty (10 kg-ish) rucksack! Contents: Tevas for swimming, towel, basha sheet, mosie net, sleeping bag, lightweight change of clothes for night time, food, cooking pot, torches and 1st aid kit. Let the venture begin!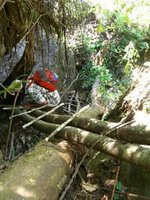 We follow the river up the mountain. We climb up massive boulders using either overhanging vines as ropes or build dodgy makeshift ladders. We pass caves and waterfalls, use fallen trees as natural crossings for rivers, streams and canyons. We constantly have to chop and hack our way through the undergrowth. Given that this is no organised trip, I'm lugging all my own gear, I'm deep in a South American jungle being led by my own personal local guide - this really is proper Indiana Jones stuff!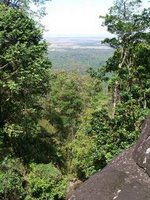 I sweat and swelter non-stop, the heavy rucksack makes everything hard work. I drink lots and refill and iodine my water bottle at every opportunity. We stop at Quagamera Falls for lunch. It has a clearing through the trees where you can see down to the bottom of the mountain. From there on, it's just the Savannahs of Guyana all the way to the horizon. Stunning. I also notice the display of my camera is broken, rendering it virtually obsolete. Bugger.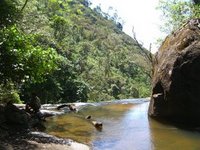 Later on we stop for a bathe and a wash in a scenic waterfall before continuing our upward climb. Every now and then you look down and see some living "thing" happily stuck to your hand. Apparently we've been following a trail - meaning Mike thinks he came through this way one, maybe two, years ago. Come 4 O'Clock Mike looks at some trees and proclaims it to be our camp site for the night. We sling our hammocks, start a fire and I cook some noodles and mini sausages. They eat dried farine - okay, so I share my noodle soup with them! And I'm in bed, asleep before dark, before 6:00 pm. It's been a hard day.
Posted by Steve Eynon2 comments