Had a lie in to 07:00 as oppose to 04:30 as a note in the hostel last night informed us that our Jungle flight to Rurrenabaque had changed from 06:50 to 09:20. Due to time constraints I didn't pack for the jungle, rather un-packed for it! i.e. Threw out what I knew I wouldn't need, e.g. sleeping bag, roll mat, etc. That still left me a full 18 Kg pack with all my clothes.
Stepping out of the hostel we were happy to immediately flag down a taxi for 45 Bs but then unhappy when we hit the main road. The taxi was only firing 2 of it's 4 cylinders and was severely underpowered. It's a half hour ride uphill to the airport and we were chugging along being passed by everything. A mini-bus full of passengers attempted to undertake. As it drew level it pulled out to overtake a lorry in front, causing our driver to take evasive action. We swerved into the outside barrier and slammed on the brakes. Our vehicles were so close I was absolutely certain contact had been made. I was wrong, we must have missed each other by an inch or so. Our driver simply blew his horn and shrugged it off. Sean and Monika went quiet in disbelief and I, riding shotgun, considered wearing a seat belt. If it had one. To add insult to injury, the lorry then powered off leaving the mini-bus dithering on the hard shoulder.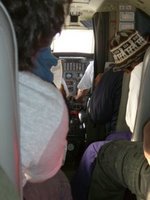 Our aeroplane was cool, it looked like a small Lear Jet. 2 single rows of seats (some 30 in total) and a clear view of the cockpit and pilots. i.e. no door, security or otherwise. We take off from the highest commercial airport in the world at 4,100m. Our mere 40 minute flight took us over some mountains before descending to land on a grass strip in the Jungle. As we couldn't see the landing strip it looked like we were crash landing in the tree tops! Opening the cabin door was like opening the door to a furnace. La Paz was a cool 15°C, here, just 40 minutes down the line was a stupidly humid 35°C! I had to take my jumper off.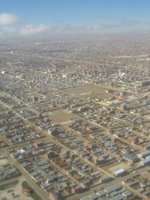 Amazsonus is the only commercial airline to operate in Rurrenabaque and they have a mini shuttle bus that ferries people the 5 minutes to and from town. Now considering they monopolise the airport I think it's a right cheek they charge 5 Bs for the service. Still, I cough up the 33p. Humph.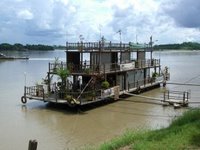 We arrived at the Madidi Travel office for 10:30 to find their boat didn't wait for us and that we'd have to wait until 13:00 for the next one. Sean complains. Although it's not their fault our flight had changed, they did know about it yesterday and could have made provisions, especially as we paid to have activities today. Phone calls are made and its agreed it's unfair for us to wait until 14:00 for the boat, a box lunch provided and the boat confirmed to leave at 14:30 though it may be 15:00. We did eventually leave at 16:00.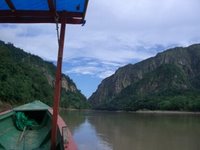 To while away the time we were given a boat ride up stream for an hour and a half. It was pretty but not much to see. We turned around when we reached the imaginary border to Madidi National Park. There was a hut on the side of the river. As we approached park rangers sauntered out to watch us - we're not allowed in the park. Our driver taunted them and kept motoring on. The rangers drew guns. We kept motoring. Sean wasn't happy and nervously shouted at our driver to "Volver!", "Return!" We didn't. Sean shouted again. We did. The rangers holstered their weapons and returned to their hut, presumably to eat donuts.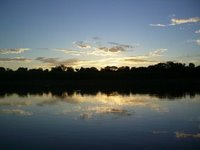 Rurrenabaque is a tiny town and only appeared on the map some 10 years ago and exists solely as a tourist gateway to the Bolivian Jungle. It is remote, despite the 40 minute flight from La Paz, it's also an 18 hour bus ride. It has a feel of lawlessness about it. I like it. Had I not been travelling with Sean &Monika, who are short on time (hence the flights in and out), I would have stayed for longer.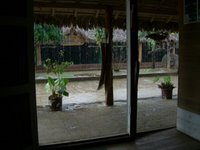 Being low on local Bolivian cash I go on a mission to change a travellers cheque. Obviously the bank doesn't so I'm directed to a hostel instead. On the way the heavens open and a down pour ensues. There is no shelter. I get drenched. I wander round the deserted hostel for a good 10 minutes looking for staff. I find one and get directed to the Chain Saw shop next door! It all seems good, I like the exchange rate, I photocopy my passport, sign the cheque and only then am I informed he has no Bolivianos. Instead he hands me a $100 US note and demands some 30 Bs commission. As I've already counter signed the cheque it's now useless to me and I'm held hostage to his demands. He has me over a barrel. Begrudgingly I hand over the last of my local groats for the US note. Damn it. Luckily, but for yet another commission fee, the bank changes US notes.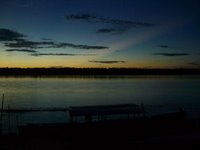 The boat trip to the lodge took 2½ hours down stream. We only grounded in the shallows twice! The driver had a stick with him which he uses to punt with every now and again to check the water depth. We arrived at our landing for sunset which meant the next ½ hour jungle hike was in the dark. Yes, I had a head torch but the guide took it!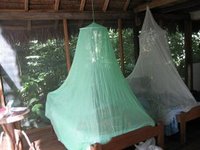 Sean, Monika and I share a jungle hut. The camp has no electricity, just candles, but does have running cold water for the tap, toilet and shower. The hut is posh, is on stilts and has see through Mosi-webbing for walls. Sean breaks out his iPod and speakers and delivers Guns'n'Roses "[Welcome to the Jungle]`http://en.wikipedia.org/wiki/Welcome_to_the_Jungle`". It's a 5 / 10 minute walk to the main lodge for a candle lit dinner. We ask for a midnight walk but told there's no point because it's a full moon and they'd be no animals about. So we resign ourselves to listening to the grunting ruckus of pet pigs outside instead.
Posted by Steve Eynon0 comments