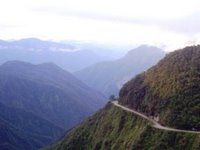 Up at 07:00, get driven to the top of The Most Dangerous Road in the World, mount up on our orange, overbuilt, full suspension, Iron Horse bikes and ride 64 km downhill. The road is a dirt track carved into the side of a mountain which connects Coroico and La Paz. It gained it's notoriety some 15 years ago when some 50 people a month used to die on it. Usually from mini-buses toppling over the side into the deep canyons below which, as you can imagine, would easily up the death count. Since they've built a new pathed road for vehicles, it's really only us mountain bikers who continue to use the old "[Death Road]`http://en.wikipedia.org/wiki/Death_Road`".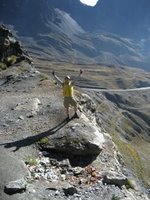 There are still plenty of grim Gringo tales of travellers meeting an untimely end, like the French girl who stepped back into thin air to let a lorry pass, or the Israeli guy who lost his balance trying to kick his mate off his bike or the Israelis who drove too fast in a hired jeep. All dead.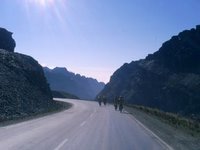 The first section, some 32 km, is now a paved road and we followed our guide at maximum speed, free wheeling down. We raced down, way faster than we could peddle, even in top gear. Leaning and banking round the corner chicanes and overtaking lorries on straights. Even this bit was cool! We stop at 2 police checkpoints. At the 2nd one we each had to pay 24 Bs Bicycle (read tourist) tax. Then begins the real dirt track Death Road!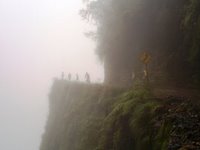 The road is full of rocks, stones and shingle. It's wet, cloudy and rather slippery but that doesn't stop Sean and I from tearing down at full pelt, hot on the tail of our expert guides. We were taking the racing line round corners leaving nothing but less than a foot of ground between our wheels and the sheer drops of death below. And it seems there is never a bad time to practice your bunny hops either! I was having a great time and I also impressed Mr Mountain Biker Sean too! Like Wow!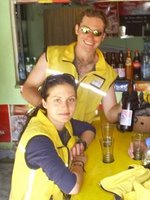 Throw in fantastic scenery, huge views and giant Eagles circulating overhead and following you around - a fantastic day out! We barely peddled once as it's all downhill and we were each greeted with a cold beer at the bottom. Perfect!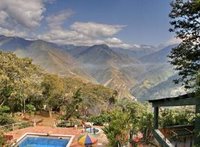 We were driven to a posh hotel in Coroico for hot showers and dinner (Thank you B-Side, you've not let us down!) - all very nice. In fact too nice. Rather than go back to La Paz we decide to stay in Coroico and hike up the hill to Hotel Esmeralda. It's owned by a German guy and has the biggest write up Sean has ever seen in a travel book! It is lush, esp at $15 US pppn (a shared triple room with no bathroom). The views of the vast valley below are stunning, from everywhere, the bedroom, the dining room, the veranda, the swimming pool and even the pool table!
The plan tomorrow was to search out some swimmable waterfalls at the end of a 3 hour walk. Chilling in the pool we didn't see any reason why we should leave the hotel. Ever!
Posted by Steve Eynon2 comments