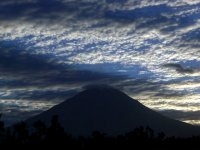 By 6:30 am everyone was lined up outside the hotel, ready to be driven to a small village in the middle of nowhere where the rafting expedition down the little known Cotahuasi Canyon was set to begin.
News of my dirty stop out soon leaked out along with tales of batgirls. Apparently even the groups hardened drinkers had called it a night at 2:30 am so the fact I still hadn't been to bed seemed to impress them. I thought nothing of it myself as today was mainly a drive day. With an 8 hour (plus) transfer in a convoy of posh comfortable 4x4s, I argued there was nothing to go to sleep for!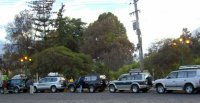 I was lumped into a car with a group who, as it tuned out, were to be my raft buddies. A family of Michel, the rotund jolly Dad, Renne (or bear) his daughter, and Heather her step Mum.
We stopped for packed lunch at the top of a mountain pass. There may have been a chill in the air but no-one expected it to start snowing! Michel in particular was displeased with the lack of heat. I felt the chill no matter how hard I hugged my fleece.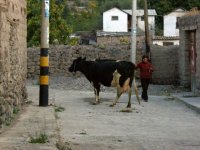 The afternoon afforded some spectacular mountain views as we descended into a valley. The bottom of which lay a little village where we were to stay for a night or two while the expedition gear was sorted out.
The house was nice enough, lots of rooms although the new wing was still a bit of a building site (literally!). The village was small and quiet and cows roaming the streets proved it was local.
Come nighttime I thought it best if I left the gaggle of loud Americans to themselves and wander out for a quiet one. Unfortunately, the wee village we were in was quieter than I imagined and after an hour scouring every road and alleyway, nook and cranny, there was not a bar to be found! Doh!
Posted by Steve Eynon0 comments